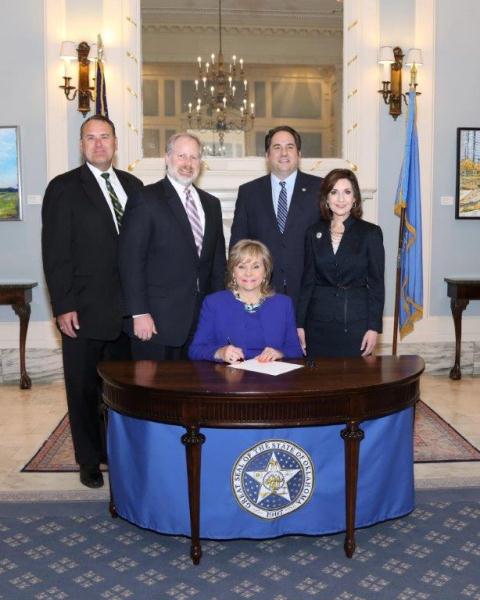 Sen. John Sparks, D-Norman, Bo Rainey, Sen. Kyle Loveless, R-Oklahoma City, and State School Superintendent Joy Hofmeister join Gov. Mary Fallin for the ceremonial signing of Senate Bill 711 in the Blue Room at the State Capitol on Wednesday, June 10.
A bill requiring schools to report if a teacher is fired due to criminal activities was signed into law on Wednesday, according to the bill's author, Senator John Sparks, D-Norman.

While the state Board of Education has always licensed state teachers, there has previously been no requirement that local school officials inform the state board about criminal misconduct involving educators. This has allowed teachers to move freely between districts after they've been fired due to criminal activities without being reported to the state board. Under Senate Bill 711, schools will now be required to notify the state board when a teacher is fired due to criminal activities, including reports of sex offenses, embezzlement and other activities which constitute a crime.

The law seeks to balance student safety and protect the due process rights of professional educators. SB 711 includes several safeguards to protect wrongly accused teachers.

"This law will help eliminate "teacher hopping" and will keep other school districts from unknowingly hiring teachers who have been accused of misconduct," said Sparks. "I commend my fellow legislators, especially co-author Senator Kyle Loveless and principal house author of SB 711, Representative Lee Denney, for supporting this measure all the way to the Governor's desk."

The new law goes into effect July 1.
Contact info
Sen. Sparks: 405-521-5553