An Overview of the Oklahoma Senate
There are two houses of the Legislature of Oklahoma with the Oklahoma Senate representing the upper house, while the other is the Oklahoma House of Representatives. Set by the Oklahoma Constitution, there are a total of 48 senators. The chart below shows how those seats are represented by political party.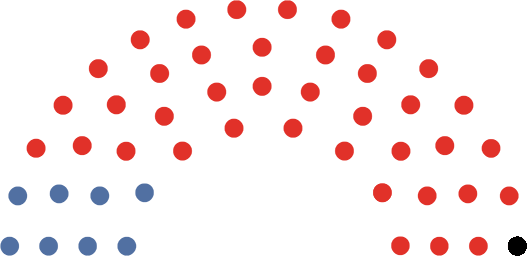 The Oklahoma Constitution outlines the qualifications to serve as a senator:
"Members of the Senate shall be at least twenty-five years of age, and members of the House of Representatives twenty-one years of age at the time of their election. They shall be qualified electors in their respective counties or districts and shall reside in their respective counties or districts during their term of office (Article 5, Section 17)."
In September 1990, voters approved State Question 632 establishing legislative term limits to service in either chamber of no more than 12 total years.
The Senate is part of the Legislative Branch. The other co-equal branches of government are the Executive Branch and Judicial Branch. The Legislature is tasked per the Constitution of writing a balanced budget every year. Senators contribute to the creation of state law through legislation they introduce and shepherd through the legislative process. The Senate also serves to "advise and consent" to many gubernatorial appointments. 
The Lieutenant Governor of Oklahoma is the president of the Senate. Since the 1960s, the President Pro Tempore of the Senate, who is third in the gubernatorial line of succession, has presided over all operations of the chamber, including appointing the Majority Floor Leader, the Appropriations Chair, as well as all other committee chairs and the members of each committee. Click here to view the rules of the Senate.

Learn About Senate History
Get Acquainted with Legislative Terms

See Our Glossary of Legislative Terms

Explore Our Senate Art Gallery