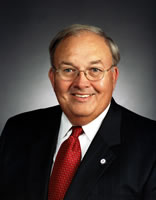 Senator Richard Lerblance
Praising him for his support of both the oil and gas industry and royalty owners, the National Association of Royalty Owners honored Oklahoma Senator Richard Lerblance Friday as the organization's National Legislator of the Year.
Lerblance accepted the honor at NARO's annual convention at Oklahoma City's Cox Convention Center. Royalty owners from more than 30 states attended the annual meeting.
"I am honored to receive this award," Lerblance said. "NARO does an outstanding job representing the more than 38,000 royalty owners nationwide and I am humbled to have been selected for this honor."
NARO is the only national organization in the United States devoted totally to the royalty (producing sub-surface interests) and mineral owner (owner of non-producing sub-surface rights) and is recognized by Congress, State Legislatures, national media and the energy industry as the authority on matters pertaining to mineral and royalty owners. It is primarily funded from member-paid dues.
Lerblance, D-Hartshorne, is chairman of the Senate Energy and Environment Committee. He was presented the award by Noble resident Robin Stead, president of the Oklahoma chapter of NARO.
"Senator Lerblance is the bravest legislator I have ever met," Stead said. "Never has (NARO) had a better friend in the Legislature. He is a champion of the oil and gas industry and not just royalty owners."
Stead pointed to Lerblance's authorship of four bills to protect royalty owners last session and a measure that provides an exemption from gross production taxes for economically-at-risk wells and his support of legislation that offers tax incentives for deep gas drilling.
Contact info
Senator Lerblance's office - (405) 521-5604