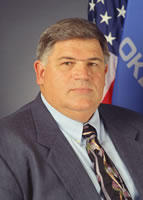 Senator Johnnie Crutchfield
OKLAHOMA CITY- Appropriations Chairman Johnnie Crutchfield said Tuesday that Senator David Myers needs to further explain his proposal to use across the board budget cuts to fund an increase for the Low Income Home Energy Assistance Program (LIHEAP). The Senator explained that due to skyrocketing energy prices, LIHEAP will need additional revenue this year to help the neediest Oklahomans stay warm this winter.
"If Senator Myers believes across the board cuts are a responsible way to help Oklahomans keep warm, he will need to show us exactly what he intends to cut," Crutchfield, (D-Ardmore) said. "I think Senator Myers forgets that state agencies are also being hit by skyrocketing energy prices."
The Senator said projections that heating bills will increase by 35 to 50 percent in Oklahoma this winter means that state agencies are already having to identify budget cuts so that they will be able to extend critical services on which all Oklahomans depend.
"Does Senator Myers want school children in his district to study in frigid classrooms? Imagine turning off the heat at the Kay County Health Department, or worse, keeping the heat on by limiting the number of flu shots that will be made available to citizens there? These are the types of decisions that will have be made across the state and right in Senator Myers own district," Crutchfield said.
The Chairman said that because Oklahoma is an energy producing state, high energy prices are resulting in additional gross production tax revenues, making it possible for the state to supplement the federal LIHEAP program and help the neediest of Oklahomans get through the winter.
"What we are proposing is using some of the revenues created by high energy prices to help those Oklahomans who will have to decide to either heat their homes or feed their children," Crutchfield said. "It just seems to make sense."

Crutchfield said he's disappointed that Senator Myers didn't bring up his idea during last week's special meeting of the Senate Appropriations Committee.
"Rather than appointing a task force, we convened the largest committee in the Senate, which is made up of nearly every Senator, so that we could hear all ideas on how to address this critical issue. It's unfortunate that Senator Myers didn't speak up at the meeting," Crutchfield said.
At last week's meeting, Crutchfield suggested that the Department of Human Services could use a portion of its $26 million fund balance to supplement LIHEAP. Lawmakers could then replenish the DHS fund balance in next year's appropriation. Ironically, said Crutchfield, a majority of the funds to replace what DHS spends for LIHEAP will likely come from state revenue derived from high energy costs.
Contact info
, Robin Maxey at (405) 521-5605.