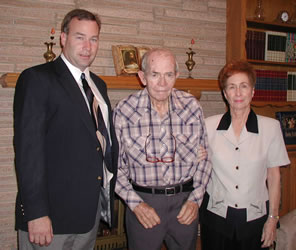 Sen. Jim Reynolds and parents Jack Don and Earlene Reynolds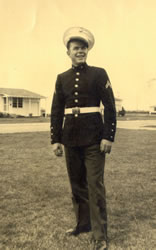 Corporal Jack Don Reynolds, 1943
(Oklahoma City) Nearly 60 years after leaving Capitol Hill High School to serve their country in World War II, a group of 17 veterans will finally be receiving their long delayed high school diplomas. That's thanks to a bill approved last session by the state legislature.
When freshman Senator Jim Reynolds voted for the measure, he and his fellow members thought it was a wonderful way to recognize those veterans for the sacrifices they'd made on behalf of their country. The fact that his own dad would finally be able to get his diploma didn't occur to Senator Reynolds until his mother asked him about it after reading an article in the news paper.
"I knew dad had left school to join the service, but since he had a college degree, I didn't even realize he hadn't gotten his high school diploma," said Reynolds.
In 1943 Jack Don Reynolds was just months away from graduation at Capitol Hill High School. But like many of his classmates, he felt his country needed him and so he answered the call.
Jack Don Reynolds eventually reached the rank of Major in the Marines, and went on to earn a college degree from the University of Central Oklahoma. But he never had the typical teen experience of crossing the stage to get his high school diploma. That will change this Thursday, when he will receive that long delayed diploma at Capitol Hill High School. It is a bittersweet occasion for the senior Reynolds.
"There are thousands who deserve this more than me; so many I'll never see again," said Reynolds. "We were so gung-ho. We just knew our country needed us." In fact, Reynolds explained, so many young Oklahomans were anxious to join that he had to wait three months before the Marines could take him. While the veteran said he mourned the fallen comrades who would not be there, he was looking forward to visiting with classmates he hadn't seen for years.
Senator Keith Leftwich represents the Capitol Hill area and plans to be on hand for the ceremony. "This is a long over due honor for these men, and I'm very proud to be a part of this. I think the fact that one of the honorees is the father of one of our Senate members is really special," said Leftwich.
Senator Sam Helton was author of Senate Bill 129, and noted the Capitol Hill ceremony to award diplomas to their students who fought in WWII was one of many that would be taking place this fall. He said he was extremely pleased to see schools taking advantage of this new law to honor their students who served in the military.
"At the time they were just kids, but they put their lives on hold for the sake of their country. They truly are American heroes," said Helton.
The graduation ceremony will be held this Thursday, October 18th at 1 p.m. in the auditorium of Capitol Hill High School, 510 SW 36th Street in Oklahoma City.
"This means a lot to our family, but I'm sure there are many other World War II veterans throughout Oklahoma who may not be aware of this new law. I'd urge them or a family member to contact their old high school and tell them they're interested in getting their diploma," said Senator Reynolds. "If they're like my dad, at first they may not think it matters that much after all these years. But now I think he is very touched by this event. And maybe more than that, it is a chance for all of us to say we appreciate the sacrifices they made so many years ago," said Reynolds.
Contact info
Senate Communications Division - (405) 521-5605