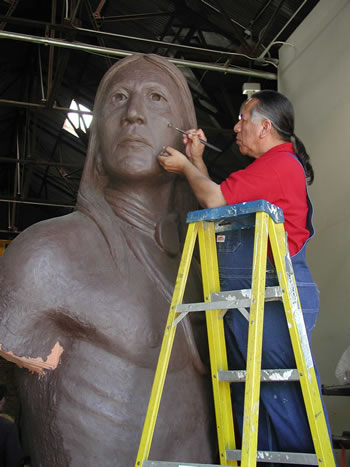 Master Artist and State Senator Kelly Haney sculpting "The Guardian."
OKLAHOMA CITY - With the legislative session over, Senator Kelly Haney has been able to spend more time with another type of State Capitol project; work on the 17-foot tall, 4-ton bronze statue called "The Guardian" that will be placed on top of the Capitol dome, now under construction.
Senator Haney, a master artist of the Five-Civilized Tribes, has exhibited his paintings and sculpture across the United States, Europe and Asia. Haney said this would be the largest piece he has ever created.
"It's actually a very interesting process. The original work is approximately 18 inches high. That was scanned into a computer, and all the data was sent to a company in California. From the computer scan, a 17-foot replica was created out of Styrofoam. That was shipped back in sections to the Crucible Foundry in Norman, and now I am covering it with clay to prepare a mold for the statue," explained Haney.
The bronze version of the statue will be cast using that mold, and will then be placed on top of the new State Capitol dome. The entire project is targeted for completion by Statehood Day, November 16th, 2002.
"I continue to be overwhelmed by this honor. Whatever artistic talent I have is a gift, and it means a great deal to be to be able to share this gift with the people of this state for generations to come," said Senator Haney. He refused the $50 thousand commission that had been allocated for the artist chosen to sculpt the statue.
"Now that the session has ended, I've been able to spend more time on this project. It'll be on hold for a few days next week while I participate in the Red Earth Festival in Oklahoma City from June 8 through the 10th. For the past several months I've been speaking to people across the state about the dome project and this statue, and I'll be happy to talk more about it with Red Earth visitors. This is a huge event for our state, and I'm very proud to be a part of it," said Haney.
Senator Haney is one of the founders of Red Earth, an annual festival celebrating Native American dance, music and art, and he continues to participate in what has come to be one of the nation's largest such events. Haney said following Red Earth, he will be concentrating his efforts on completion of the statue.
Contact info
Senate Communications Division - (405) 521-5605