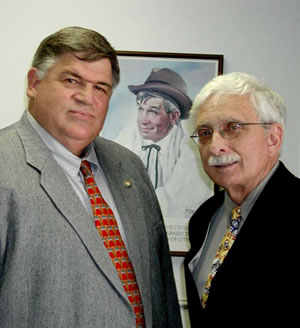 Sen. Johnnie Crutchfield and Sen. Ben Robinson say they'll work to restore vetoed funding to state schools for the deaf and blind.
OKLAHOMA CITY - Although Governor Frank Keating approved emergency funds to help public schools pay for last winters' high heating costs, he line item vetoed funds that would have done the same thing for state residential schools for deaf and blind children.
"Surely this was a mistake on his part. I'd hate to think that the Governor would deliberately veto critically needed funds from these schools in particular," said Senator Ben Robinson, D-Muskogee.
The Oklahoma School for the Blind in Muskogee is in Senator Robinson's district. Likewise, the Oklahoma School for the Deaf in Sulphur is in Senator Johnnie Crutchfield's district.
Like Senator Robinson, Senator Crutchfield says he's very concerned about the students of those two residential schools, and how the veto could affect them.
"The line item veto we're concerned about included $77,000 that would have paid for heating costs for the schools for deaf and blind. Maybe that doesn't sound like much, but when you consider the size of their budgets and how strapped they already were, it's a very devastating loss. Those schools shouldn't have to choose between buying essential supplies for the children and trying to pay their heating bill," said Senator Crutchfield, D-Ardmore.
In the Governor's veto message he explained he wanted some agency budgets to get a more thorough review for possible reductions to pay for tax cuts.
"I've talked to many people here at the Capitol and back in Muskogee, and they said if it came down to trying to decide on a tax holiday or keeping these kids warm, they'd rather do the right thing and pay to heat those two schools," said Robinson.
The two Senators said that perhaps the Governor vetoed the $77,000 for the Schools for the Deaf and Blind because it was included in a special utility assistance fund appropriated to the Department of Central Services. The funds are appropriated differently because the schools for the deaf and blind are actually under the oversight of Rehabilitative Services. Their heating funds would have come through the Department of Central Services.
"I can see where the Governor could have made an honest mistake with that veto, but at the very least someone on his staff should have pointed this out to him," noted Crutchfield.
"At any rate, there are well over two-hundred kids who will be directly impacted unless we correct this situation. That appropriation shouldn't have been vetoed, but Senator Crutchfield and I will do everything in our power to get that funding restored as soon as possible," said Senator Robinson.
Contact info
Senate Communications Division - (405) 521-5605