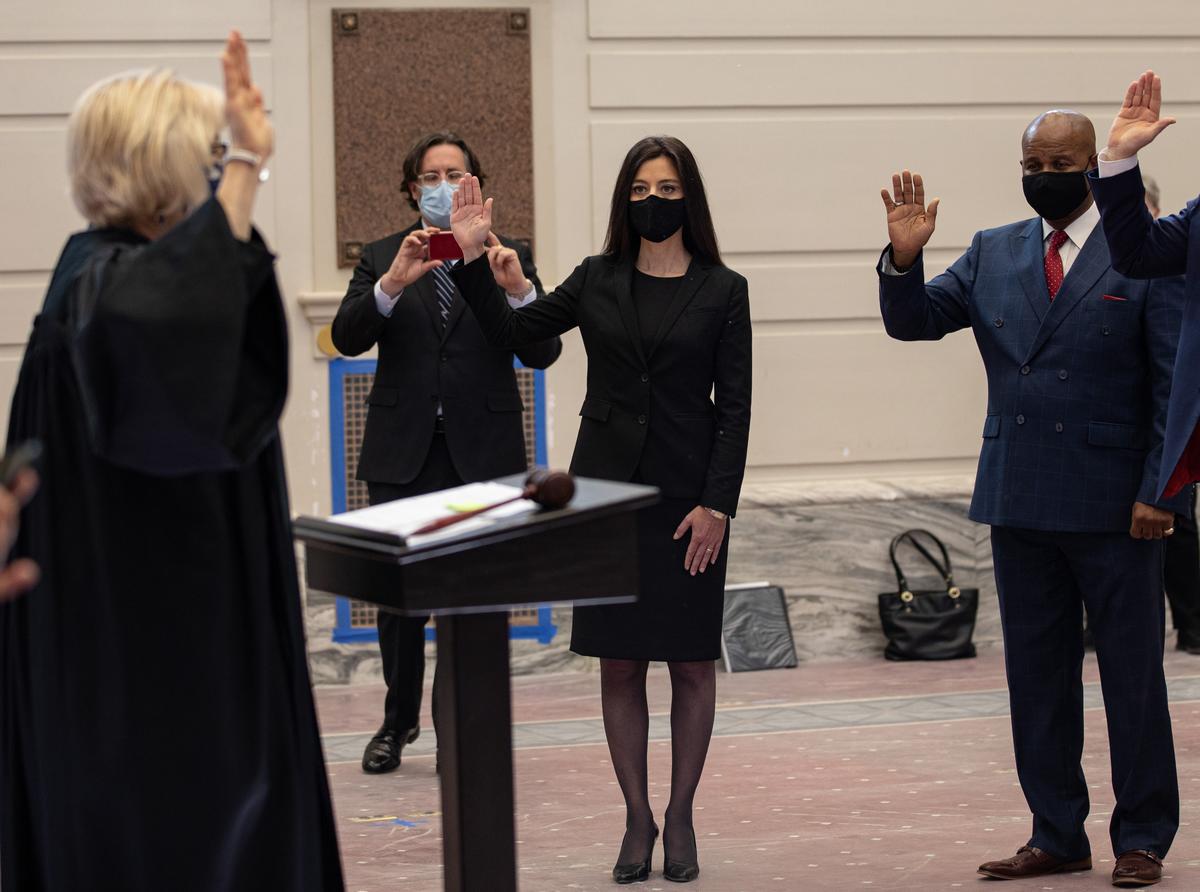 Senators Jo Anna Dossett and Kevin Matthews taking the oath of office at the state Capitol on Monday
Two Tulsa Democrats are officially on the job for the next four years in the Oklahoma Senate.  Sen. Kevin Matthews, who represents Senate District 11, was unopposed during the 2020 election cycle and was automatically re-elected.  Sen.  Jo Anna Dossett was elected to the District 35 seat earlier this month. 
While members traditionally are sworn in together during a large ceremony in the Senate Chamber, Monday's ceremony was modified due to increased community spread of COVID-19.  Members took the oath in small groups and the number of guests was restricted.
"The pandemic has not gone away.  Many of my constituents are at higher risk than others throughout our state—minorities are disproportionately impacted by COVID," Matthews said.  "I still believe Oklahoma needs a statewide mask mandate to reduce spread and will continue to advocate for that.  There are other pressing concerns before us as well.  We need greater equity in health care access, in jobs, and in criminal justice.  Our state faces significant economic challenges as a result of this pandemic.  It's going to be a difficult session, but I am honored my friends and neighbors in District 11 have entrusted me to continue to fight for them at the Capitol."
Dossett is a career teacher and said education must remain a top priority even as the state copes with the continued impact of the virus.
"We must remain focused on the safety and well-being of not only Oklahoma students, but our teachers and staff.  Although we face significant budget challenges this year, we need to prioritize resources for our schools and ensure the children living through this historic pandemic are not paying the price for it the rest of their lives.  It's crucial to the future of our state that we get it right. I am humbled and grateful for the opportunity to serve Senate District 35 during these unprecedented times."
The full Senate will hold an organizational day on Jan. 5 to adopt rules and formally elect leadership.  The 2021 regular legislative session will get underway on Feb. 1.
For more information, contact:
Sen. Kevin Matthews at 405-521-5598, or email Kevin.Matthews@oksenate.gov
Sen. Jo Anna Dossett at 405-521-5624, or email JoAnna.Dossett@oksenate.gov
-END-
CUTLINE:  Supreme Court Chief Justice Noma Gurich, left, administers the oath of office to Sen. Jo Anna Dossett, D-Tulsa, and Sen. Kevin Matthews, D-Tulsa, while Dossett's husband, Chris Barber, takes a photo.