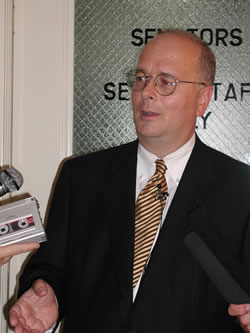 Senate President Pro Tempore Stratton Taylor discusses the 2002 legislative session at a State Capitol news conference.
Statement by Senator Stratton Taylor,
Senate President Pro Tempore
"Given the revenue hand that we were dealt, I think the Legislature and Governor Keating did a pretty good job of working through one of the most challenging sessions in recent memory. We did everything humanly possible to protect public education, health care, veterans services and other priority programs from the full weight of the budget axe, but in order to do that we had to make cuts to other areas. It wasn't an easy or painless process, but there really weren't any other realistic options available to us.
"In addition to the budget, we passed some good pieces of substantive legislation that should help improve the quality of life in Oklahoma. We cracked down on annoying telemarketers, increased teacher health benefits and gave COLAs to state retirees, among other things.
"Obviously, I'm very disappointed that we weren't able to get an agreement on congressional redistricting, but Governor Keating virtually guaranteed that those negotiations would fail back in January when he said he would not sign any plan that did not protect the incumbent politicians who are running for re-election. Speaker Adair and I felt that the new district lines should be based on the interests of the people rather than the politicians, but obviously, Governor Keating disagreed with us on that point.
"I would have liked to see some action on tax reform, but given the enormity of the state's budget problems, there just wasn't much support for rewriting the tax code at such an uncertain time. I'm hopeful that we will revisit this issue in the future because I believe that we can improve our tax system.
"Overall, I think the Legislature and Governor Keating did a very good job of addressing the challenges that this legislative session posed. Because of the state's budget problems, it probably won't go down as a banner session in the history books, but some important and memorable work was done just the same."
Contact info
Senate Communications Division - (405) 521-5605