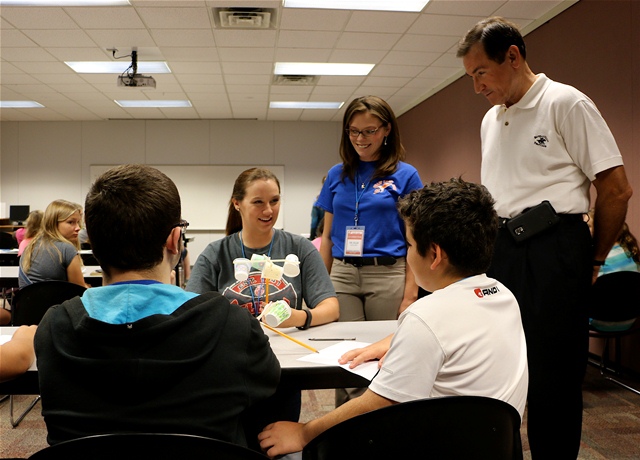 Sen. Ron Sharp and Gordon Cooper Career Technology Center (GCTC) STEM program coordinator, Dr. Andrea Ellis, listen to teacher Megan Wilder as she discusses anemometers with local students at the GCTC STEM camp Wednesday.
Oklahoma's students are getting better prepared for jobs in the fields of science, technology, engineering and mathematics (STEM) thanks to legislation passed during the 2014 legislative session. Senate Bill 1181, which became law on August 22, 2014, put into effect some of the recommendations of Gov. Fallin's Science and Technology Council to improve workforce development by strengthening STEM (Science, Technology, Engineering and Math) education programs in Oklahoma.

The "Oklahoma-A STEM State of Mind" Program establishes the criteria for designation as a STEM Community and Region. The process for designation as a STEM Community or Region requires that state legislators initiate such designation through an application process. The process is overseen by a subcommittee chosen by the Governor and overseen by the Coalition for the Advancement of Science and Mathematics Education in Oklahoma (CASMEO). Final approval and designation as a STEM Community or Region is then made by the Governor.

Shawnee and Tulsa were the first to be designated STEM Communities in the state, and eight others are in the process of earning the designation. The Gordon Cooper Technology Center in Shawnee has also been designated as a STEM Region being that it serves multiple communities. When individual school districts organize under the Act, they're deemed STEM Communities.

These communities/regions have created partnerships consisting of educators, industry members, local business owners, Chambers of Commerce, parents and students focused on STEM education and training.

These partnerships help:
students understand and appreciate the career possibilities in STEM fields
provide students with rigorous curriculums to prepare them to pursue college degrees in STEM fields
provide STEM industries with a highly-qualified workforce

Sen. Ron Sharp, principal author of SB 1181, commended the work of communities around the state in helping better prepare students to pursue careers in STEM fields.

"I applaud the educators, parents, businesses and community leaders of Shawnee and Tulsa as well as the other cities and school districts working on becoming STEM Communities or Regions for their dedication to opening the minds of Oklahoma's students to the many career possibilities available in STEM fields," said Sharp, R-Shawnee. "This initiative is helping create a skilled workforce with the knowledge to meet the needs of businesses not only in Oklahoma but across the nation. I hope more Oklahoma communities will consider participating in this important education and workforce initiative."

The Alliance for Science & Technology Research in America (ASTRA) has projected by 2018 there will be 81,000 STEM-related Oklahoma jobs that will need to be filled. However, ASTRA found that less than 25 percent of Oklahoma students show interest in STEM, which is below the national average.

Marty Lewis, Gordon Cooper Technology Center Superintendent/CEO, helped craft the legislation and pointed out that STEM is not just an issue for common education but for all levels including higher education and career tech.

"STEM education is truly an economic development issue. Tomorrow's workforce is in the classroom today," said Lewis. "If we're successful in motivating more and more students throughout all levels of education to choose and excel in rigorous STEM classes then the Shawnee region and the entire state will be more successful economically."

According to the U.S. Bureau of Statistics, STEM jobs are expected to increase by more than 21 percent and 80 percent of jobs in the next decade will require technical skills. The U.S. will have over one million job openings in STEM-related fields by 2018.

Brig. Gen. Ben Robinson, USAF, with CASMEO said the benefits of STEM education in the state are far reaching.

"A statewide effort to enhance our STEM education, focused at the community level, benefits our students, our industries, our economy and improves the quality of life and opportunity for all in Oklahoma," said Robinson.
Contact info
Sen. Sharp: 405-521-5539