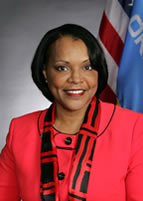 Sen. Constance N. Johnson
"I am shocked and saddened by the untimely death of Judy Copeland, General Counsel to the Governor. The times that I had the pleasure of working with her she was very professional, open and friendly. It's unfortunate any time someone's life is cut short by stroke, but it's particularly disturbing when it's someone as young and healthy as she.
Judy was a vibrant, young woman at the pinnacle of her career. Her tragic death is a reminder to all Oklahoma women of the seriousness of heart disease and stroke. A majority of people are unaware that heart disease is the number one killer of women in our nation with a grandmother, mother, sister or friend dying every minute.
A bright light has been snuffed out and our hearts are heavy, but I hope that Judy's passing will encourage other women to educate themselves about the signs of stroke and how to prevent it."
Educational Programs:
The Oklahoma State Department of Health's Act FAST! program 1-888-669-5934
The Go Red for Women Campaign www.GoRedForWomen.org


Contact info
Sen. Johnson: (405) 521-5531