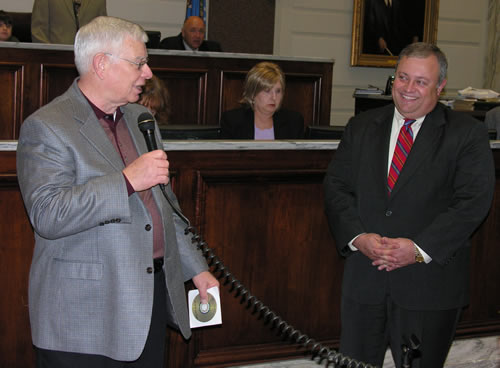 Long-time Capitol reporter John Greiner thanks the Senate for their recognition.
The Oklahoma State Senate paused to honor former State Capitol reporter John Greiner on Monday. The 66-year-old Greiner retired from "The Oklahoman" newspaper last fall. State Senate President Pro Tempore Glenn Coffee praised Greiner's ethics and experience in covering the statehouse.
"John spent most of four decades covering the State Capitol. He has documented history in the making and worked diligently to ensure our citizens had access to vital information about their government," said Coffee, author of Senate Resolution 9 praising Greiner. "But just as importantly, John stayed true to his ethics and worked to ensure his reporting was both accurate and balanced—and at all times, he was a gentleman."
Greiner first joined "The Oklahoman" in 1966 and covered seven gubernatorial administrations and more than a third of the state's legislative sessions. He was inducted into the Oklahoma Journalism Hall of Fame in 1993 and serves on the Advisory Committee of Ethics and Excellence in Journalism Foundation.
"I'm truly humbled by this, I really am," Greiner said. "I always told people working on a newspaper was fun, and covering the Oklahoma Legislature and politics was really fun and exciting."
Greiner said he enjoyed his time covering the Legislature, in particular the Senate, and still missed the camaraderie he enjoyed with his friends in the press corps. In his retirement, Greiner planned to spend time with his family and compile a family history.


Contact info
Sen. Coffee's Office - 405-521-5636