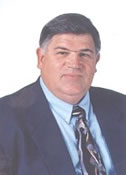 Senator Johnnie Crutchfield
(Oklahoma City) Oklahoma public school teachers and education support personnel will receive expanded health care benefits under legislation passed by the State Senate Wednesday.
HB 1968 by Sen. Johnnie Crutchfield and Rep. Kenneth Corn was approved on a unanimous 42-0 vote.
"In order to attract and retain the best teachers in Oklahoma, we have to offer a competitive compensation package. By boosting health benefits, we can better compete with the other states that routinely raid Oklahoma to fill their teaching ranks," said Sen. Crutchfield.
Currently, the state and local school districts fund approximately 50 percent of the health insurance costs for teachers and 90 percent for support personnel. The legislation would raise the level of support to 75 percent for teachers and 100 percent for support staff next fiscal year.
The level of support would be raised again the following year, FY 2004, with 100 percent of teacher health benefits being paid by the state and local school districts.
"Because of the very important job that they do, teachers and education employees deserve better health benefits. This will give them that," said the Ardmore legislator.
In addition to boosting education health benefits, legislative leaders have agreed to protect public schools from deep budget cuts triggered by slumping state revenues. Oklahoma is facing a projected $350 million budget shortfall next fiscal year.
HB 1968 was originally authored by the late Sen. Larry Dickerson. Sen. Crutchfield took over the legislation in March when Dickerson died after a lengthy battle with cancer. To honor Sen. Dickerson, the legislation was renamed the "Larry Dickerson Education Flexible Benefits Allowance Act."
The measure now goes to the State House for final legislative approval.
Contact info
Senate Communications Division - (405) 521-5605