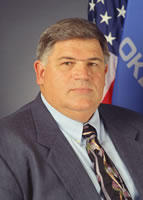 Senator Johnnie Crutchfield
The Oklahoma State Senate voted Monday to appropriate $125 million to the Oklahoma Department of Transportation to fund the repair and replacement of the worst bridges on state highways and county roads.
Senate Bill 1288, authored by Senate Appropriations Chairman Johnnie Crutchfield, dedicates $100 million for state bridges and sets aside an additional $25 million for county bridges.

"By appropriating this money now, ODOT and our counties can get started repairing and replacing the worst bridges in Oklahoma. The $125 million won't fix all the bridges but it will begin making a noticeable improvement in Oklahoma's transportation infrastructure," Crutchfield said.

Legislative leaders said last week that the bridge funding was only the next step toward addressing the maintenance needs of Oklahoma's highways and that more legislation is expected to provide additional funding for road and bridge repairs later in the session.

SB 1288 appropriates $92.8 million from the Dynamic Economy and Budget Stabilization Fund, $7.2 million from the Special Cash Fund and $25 million from the anticipated spillover in Fiscal Year 2006 revenue.
It also sets aside the next $150 million of FY 2006 spillover for the Dynamic Economy and Budget Stabilization Fund.


Contact info
Senator Crutchfield's Office - (405) 521-5607