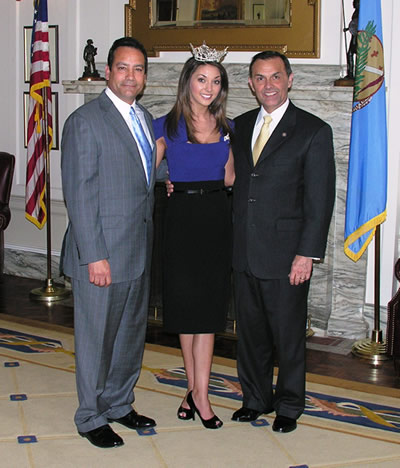 Miss Oklahoma Kelsey Cartwright poses wtih Collinsville Mayor Stan Sallee and Sen. Randy Brogdon after she was presented on the Senate floor Monday,
The State Legislature honored Miss Oklahoma 2008 Kelsey Cartwright Monday. State Sen. Randy Brogdon authored Senate Concurrent Resolution 6 recognizing her many talents and accomplishments.

"I've had the opportunity to spend some time with Miss Cartwright, and I can tell you she is a fine lady that represents the state of Oklahoma extremely well. She is a tremendous young lady who is as beautiful on the inside as she is on the outside," said Brogdon, R-Owasso. "We were so pleased to get to honor her and wish her all the best during her reign and in her future endeavors."

Cartwright was selected Miss Oklahoma at the 36th annual scholarship pageant at Oral Roberts University in Tulsa, Oklahoma last year. The then 20-year-old sophomore dance management major at Oklahoma City University won the preliminary swimsuit competition. In the talent portion of the competition she performed a lyrical dance to "I Want You to Need Me". Cartwright qualified for the state competition by winning the Miss Keystone Lake pageant. One of 42 contestants in the Miss Oklahoma pageant, she received a $16,000 scholarship and a new car. She then went on to compete in the Miss America pageant in Las Vegas, Nevada in January.

SCR 6 was co-authored by Rep. Earl Sears who also represents Cartwright's hometown of Collinsville.

"We are so proud of Kelsey, and were delighted to have her at the Capitol and get to congratulate her and thank her for being such an outstanding representative for our state," said Sears, R-Bartlesville. "She is a great role model for all ages, and she's going to help so many Oklahomans who want to learn more about their adoption."

During her reign, Cartwright has been traveling around the state and nation promoting her platform of open adoption to nontraditional families. She got the idea from her father's experience in attempting to learn about his adoption. Oklahoma currently has closed adoption laws and has placed legal barriers in the path of those wanting information about their adoption.

When introduced in the Senate, Cartwright talked about traveling around the state visiting schools.

"It's been an incredible experience being Miss Oklahoma," said Cartwright. "Our youth and students are on such a great path. They've got huge goals and high ambitions. I'm proud to say that I'm able to represent them. I get to talk about setting goals and making good choices, and hopefully just be a phenomenal role model for them. That's what I love to do. I think I have the best job in the entire world."

The Miss America Organization is one of the nation's leading achievement programs and the world's largest provider of scholarship assistance for young women. The Kiwanis Club of Tulsa has sponsored the Miss Oklahoma Scholarship Pageant for 33 years, during which they have awarded over $40 million in cash and tuition scholarships to young Oklahoma women.


Contact info
Sen. Brogdon's Office - 405-521-5566 Rep. Sear's Office - 405-557-7358