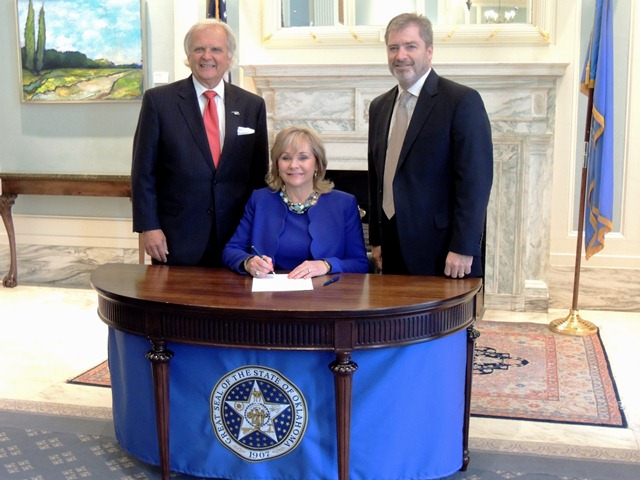 Rep. Richard Morrissette and Sen. Rob Standridge pose with Gov. Mary Fallin after the recent ceremonial signing of House Bill 1074.
Gov. Fallin recently held a ceremonial signing of House Bill 1074, also known as the Right-to-Try Act, by Rep. Richard Morrissette and Sen. Rob Standridge. The new law, which goes into effect November 1, 2015, will allow terminally-ill patients, who have received approval from their physician, access to investigational medications, biological products or devices that have completed Food and Drug Administration phase one safety testing and remain under an approved investigation.

"This new law will give terminally-ill patients the right to try to save their own life by giving them more control over their treatment options," said Standridge, R-Norman. "Until now, these patients' hands have been tied by restrictive laws in our state on investigational treatments and they just had to accept their fate. Oklahoma was taking a basic human right away from terminally-ill patients by not allowing them to fight for their life but House Bill 1074 will change that in November."

Right-to-Try has been adopted in twenty states including Arizona, Colorado, Michigan, Missouri and, most recently, Florida.

Under HB 1074, manufacturers will not be required to make experimental treatments available to eligible patients. Health insurance companies will not be required to provide coverage for such products either. A licensing board cannot take action against a provider based solely on their recommendations to an eligible patient regarding access to, or treatment with, such products. Additionally, the new law will not create a private cause of action against a manufacturer or against any other person or entity involved in the care of an eligible patient using such products.
Contact info
Sen. Standridge: 405-521-5535