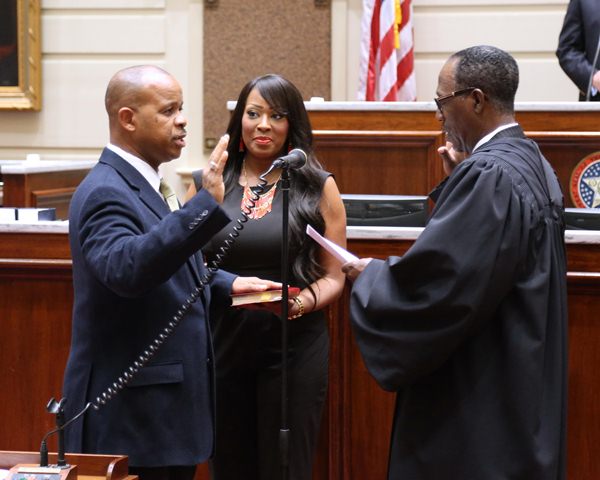 Oklahoma Supreme Court Justice Tom Colbert administers the Oath of Office to Sen. Kevin Matthews who won the Senate District 11 seat in a special election.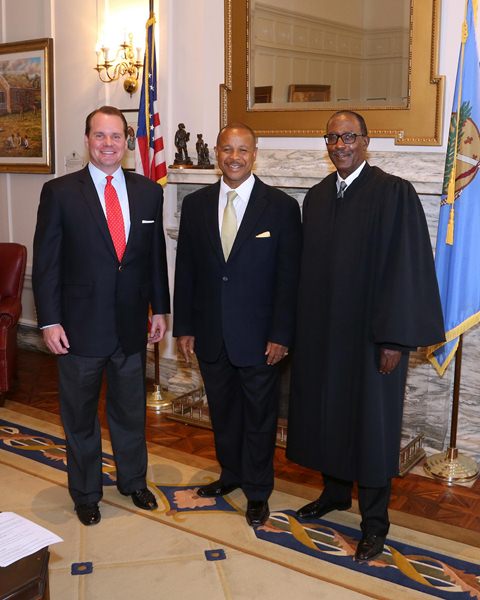 Sen. Kevin Matthews poses alongside Lt. Gov. Todd Lamb (L) and Oklahoma Supreme Court Justice Tom Colbert (R).
Former state Rep. Kevin Matthews was sworn in Wednesday as the newest Senator to represent Senate District 11 in Tulsa County. He began his legislative career when he was elected to the House of Representatives in November 2012. Matthews' Senate oath of office was administered by the honorable Supreme Court Justice Tom Colbert.

"It's by the grace of God and my family, friends and the many volunteers who gave so much of their time that I'm here today. I'm so grateful for their unending encouragement and support. I will continue to work tirelessly for them and those in our society who are lost, overlooked or have been forgotten. Everyone deserves to have a voice and I'm honored to be that for them in the Oklahoma Legislature," said Matthews, D-Tulsa. "Although there is just over a month left in the legislative session, I'm going to continue what I started in the House while also focusing my attention on the major issues in the Senate."

Sen. Matthews will be serving on the Appropriations Subcommittee on General Government and Transportation as well as the Appropriations Subcommittee on Health and Human Services. He will also be a member of the Senate Appropriations, General Government, Pensions, Transportation, and Public Safety Committees.

Sen. Matthews, a long-time resident of the Tulsa area, graduated in 1978 from Booker T. Washington High School, and attended Central State University, where he pledged Phi Beta Sigma. He received a degree in Fire Protection Technology and has served 25 years with the Tulsa Fire Department. He retired in January 2010 as the Administrative Fire Chief, Chief of Personnel.

During his career, Matthews completed the Middle Management Curriculum at the National Fire Academy and the Executive Development Institute at Dillard University. He also attended the 2012 Center for Advanced Leadership Studies and the Andrew Young School of Policy Studies in Atlanta, Georgia.

Sen. Matthews is the proud, single parent of two grown sons, Kevin Matthews II, 25, who is a graduate of Hampton University and "Teach for America" participant in Dallas, Texas, and Sterling Matthews, 23, who is a Certified Medical Assistant and Spoken Word artist who teaches the craft to local high school students.
Contact info
Sen. Matthews: 405-521-5598