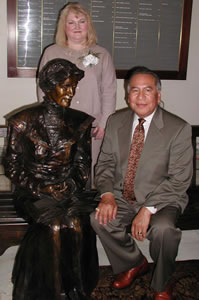 Claremore artist Sandra VanZandt and Senator Kelly Haney at the dedication of the sculpture of Oklahoman Kate Barnard.
OKLAHOMA CITY - A statue of the first woman ever elected to statewide office was unveiled Tuesday during a ceremony at the State Capitol. Keynote Speaker Senate Appropriations Chairman Kelly Haney secured funding for the project, which he said was long overdue.
"This marks the first time any woman has ever been honored with a sculpture like this at the Capitol. And I can think of no better woman to honor than Kate Barnard, who was Oklahoma's first Commissioner of Charities and Corrections," said Senator Haney.
Senator Haney said he admired Barnard for the many things she was able to accomplish for Oklahoma's children, including ensuring planks on compulsory education and child labor were part of the state's constitution.
"She was terribly concerned with the plight of young children who were being exploited for low wages and under unsafe conditions. Kate Barnard knew they needed protection from this kind of exploitation, and that their future would depend on a good education. She was a visionary in both of these areas," explained Haney.
Senator Haney said that Barnard's statue was one way to help keep her memory alive, but that Oklahomans should strive to continue her work.
"This was an extraordinary woman who was elected at a time when women could not even vote, and she took on some very unpopular issues. But they were issues that continue to have tremendous impact on our state," noted Haney.
Senator Haney said one way to continue her work was through support of funding for such things as the Oklahoma Commission on the Status of Women, for which he is seeking an appropriation of $125,000 for the coming fiscal year. The Seminole lawmaker has also worked to secure resources and bring greater public awareness to domestic violence, both locally and statewide.
"Although these are thought of as women's issues, I would contend that they really are family issues. And ultimately, those are the one's that deal with our morality, and the quality of life we want to offer in our state. I think that's the bigger picture Kate Barnard was able to see, and why she was such an important figure in Oklahoma history," said Haney.
The sculpture was created by Claremore artist Sandra VanZandt, and depicts Kate Barnard seated on a bench with a book in her lap. The sculpture will be on permanent display in the southeast foyer of the first floor of the State Capitol Building.
Contact info
Senate Communications Division - (405) 521-5605