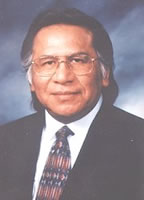 Senator Enoch Kelly Haney
Oklahomas bid to create a world class Native American Museum and Cultural Center cleared an important funding hurdle Friday when the U.S. Senate authorized $33 million federal construction funding.
I am very pleased to see that the Senate has passed this authorization bill, said State Senator Kelly Haney, a leader in creating the state and local partnership to build the center. We anticipate the center will become the number-one tourist attraction in all of Oklahoma.
The House of Representatives will still have to take a second vote on the authorization, but backers are confident of success.
The adoption of legislation to provide part of the funding for the Oklahoma Indian Cultural Center by the U.S. Senate puts us one step closer to the centers reality, said Chickasaw Nation Governor Bill Anoatubby, the board chair of the states Native American Cultural and Educational Authority. We have confidence that the House will act affirmatively once again on this important matter.
The center will be constructed on a 300-acre tract in Oklahoma City at the intersection of Interstates 35 and 40. The 125,000 square foot complex will include a 300-seat theater, a 40,000 square foot amphitheater, and studios for art, dance and drama. The total cost of the project, which will also include a lodge and conference center will be $150 million. Construction should be completed by late 2007.
When fully operational, the center will have a significant direct economic impact on the Oklahoma City area, said Sen. Haney. The center and its affiliated industries will help provide more than 250 jobs and generate $41.6 million in annual gross receipts.
Senator Haney noted that the federal money is contingent on raising $66 million in local, state, and private matching funds. However, he added that wouldnt be quite as daunting a task as it might seem. The center site, including land donated by the city and the state Department of Transportation is valued at more than $12 million. Oklahoma City has already pledged another $5 million in funding. The state made an initial contribution of $6.5 million and private contributors have already stepped up, including Phillips Petroleum which last year made a donation of $100,000.
Senator Haney praised the many state and federal political leaders who have contributed to the effort, including State Senator Robert Kerr who helped to set up the state authority that will guide the project and helped obtain the original state funding. Also credited were U.S. Representative Brad Carson who proposed the federal authorization and Oklahomas U.S. Senators.
This is truly a bipartisan effort, said Senator Haney. Both Democrats and Republicans see this project as a major economic development tool for tourism in Oklahoma.
Contact info
Senate Communications Division - (405) 521-5605