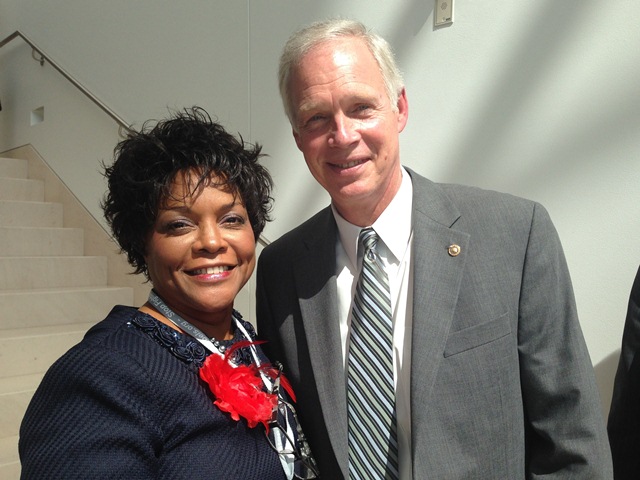 State Sen. Connie Johnson (D-OK County) chats with US Senator Ron Johnson (R-WI) at the No Labels National Strategic Agenda session in Washington, D.C.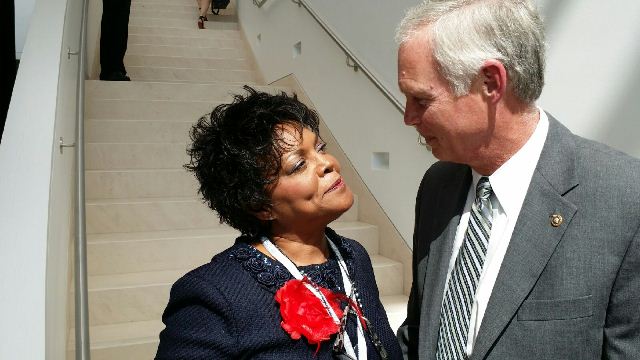 Oklahoma State Senator Connie Johnson visits with US Senator Ron Johnson (R-WI) during the No Labels National Strategic Agenda session in Washington, D.C.
Senator Connie Johnson traveled to the nation's Capital Wednesday to meet with dozens of members of the U.S. Senate and House of Representatives, state and local officials, and business and community leaders for a one day No Labels National Strategic Agenda Meeting. The meeting served as the kick-off to a yearlong process that that will set a vision for where America needs to go and how we will get there.
"I'm pleased to be a part of this nonpartisan effort to bring those issues most important to Oklahomans and other citizens to this nationwide conversation. Our country is dealing with some serious issues that can no longer be ignored or tied up in partisan gridlock in Congress," said Johnson, D-Oklahoma County. "The people's voices and concerns about education, jobs and governance deserve to be heard in Washington, D.C. This session offered the perfect opportunity to begin that process."
The goal of the movement is to develop a comprehensive policy document – with input from people across America – by October 2015, just as the presidential election is getting started.
"Washington has become too complacent and too accepting of gridlock as the natural order of things. It's not," said Gov. Jon Huntsman, Co-Chair of No Labels. "The National Strategic Agenda is a big idea, and it's simply the right idea at the right time. It directly involves citizens in the process and will help our nation's leaders rediscover the lost art of policymaking."
No Labels – a national movement of Democrats, Republicans and Independents dedicated to problem solving – is calling for America's leaders to support a new governing process to build a National Strategic Agenda. The Agenda includes four goals – chosen with input from a nationwide survey that No Labels conducted last fall:
Create 25 million new jobs over the next 10 years
Balance the federal budget by 2030
Secure Medicare and Social Security for the next 75 years
Make America energy secure by 2024
"We began the process of creating The National Strategic Agenda with input from people across America in attendance at the National Ideas Meeting. Subsequent events in New Hampshire, Iowa, Philadelphia and elsewhere will enable No Labels to take the pulse of people across America and, ultimately, forge agreement on a full policy plan to achieve the goals of the National Strategic Agenda," said Johnson.
More than 80 members of Congress have endorsed the process to create the National Strategic Agenda.
"No one has ever tried this approach before, which is one of the reasons why people are so energized by it," said No Labels Executive Director Margaret Kimbrell. "I spent a week in August talking to people about the National Strategic Agenda at the Iowa State Fair and the response was unbelievable. People just want to be a part of an inclusive process where everyone can have a stake in the outcome."
The National Strategic Agenda is not just another policy plan, because the specifics of how its four signature goals are achieved will be filled in over the next year through a rigorous and deliberate process.
"Many of our leaders say they want to unite – not divide – our country, but no one ever says exactly how this can be accomplished," continued Kimbrell. "The creation of the National Strategic Agenda is precisely how we unite our leaders and move the country forward in support of common goals."
The completed National Strategic Agenda will be unveiled in New Hampshire and Iowa on October 5, 2015.
Although Washington, D.C. has been consumed by gridlock in recent years, various state leaders and legislatures have made notable progress in their respective states.
"These challenges we're discussing on the 17th aren't just Washington's problem. This is a problem for my home state of Iowa as well as the other 49 states," said state Sen. Jeff Danielson, D-Iowa. "Most state leaders are used to working across the aisle so they need to play a big role in pointing the way forward. Good jobs, a balanced budget, a strong social safety net and energy security … these are challenges we all need to pull together to solve. And there isn't a moment to waste."
Contact info
about the No Labels National Ideas Meeting and their proposed National Strategic Agenda, visit www.nolabels.org. For more information, Sen. Johnson: (405) 521-5531