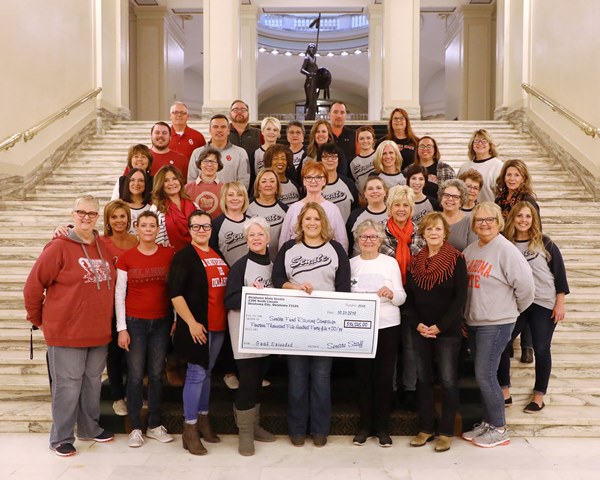 Senate staff celebrates their fundraising record for the State Charitable Campaign and Regional Food Bank of Oklahoma.
Each year, the state Senate joins 75 state entities in participating in the State Charitable Campaign (SCC) to help raise money for nonprofit organizations around Oklahoma. The Senate's campaign ran from September through the end of October and raised a record amount of $14,545.

"I am thankful for the generosity and caring spirit of the entire Senate family," said Senate President Pro Tem-designate Greg Treat. "Not only did they donate a record-setting amount, but they gave of their time by volunteering at the Food Bank and other charities. I'm proud of their hard work and commitment to helping our fellow Oklahomans."

With only 155 employees, the Senate is one of the smaller state entities to participate in the SCC but is continually ranked as one of the United Way's top 25 in terms of per capita giving. In 2017, the Senate had the second largest employee per capita giving among other similar-sized state entities (100-250 employees) at nearly $56 per person. This year, with $10,245 raised for the SCC, the per capita amount grew to more than $66 per employee, and is over $200 when the actual number of donors is considered.

SCC Chair and ODOT Executive Director Mike Patterson congratulated and thanked the Senate for their generosity and hard work.

"Thank you to the Oklahoma State Senate for completing a record breaking State Charitable Campaign," said Patterson. "The employees and members of the Senate have again demonstrated their devotion to gratitude and charity, the gratitude for what they have and charity for others, a true sign of servant leadership. By digging deep in their pockets, the Senate has created a standard for other agencies to admire and follow."

This year's SCC theme was "Team Up for Our Community". The Senate held sports-themed fundraisers including their annual lunch time OK-lympics with bunco, trivia, bingo, Wii bowling, football toss, lawn Yahtzee, corn hole and a walk-a-thon. Other events included a bake sale, talent show, Senate alumni tailgate luncheon, concession stand, food truck and a halftime tea party. Employees also volunteered to prepare breakfast and lunch items to sell.

The Senate also raised an additional $4,300 in cash to go directly to the Regional Food Bank of Oklahoma along with the $3,355 that was designated to the charity through employee SCC contributions. Together, these donations will provide more than 30,600 meals to hungry Oklahomans.

"We want to thank the Oklahoma Senate members and employees for working so hard to put food on the tables of hungry children and their families," said Jennifer Eckert, Manager of Corporate Engagement. "We are humbled and grateful for our partnership with this incredible group of people. Together with other generous individuals, they are helping to feed 136,000 Oklahomans every single week."

The Senate staff has supported the Food Bank for many years because of their efficiency and mission. Every $1 donated provides 4 meals to hungry Oklahomans and the Food Bank also provides food to more than 1,300 other nonprofits, schools and organizations statewide. In recent years, the Senate has donated a total of $29,000 to provide more than 137,000 meals.

Volunteers are an important part of keeping overhead costs low for the Food Bank. Since 2016, Senate employees have volunteered 144 hours after work packing food for the Backpacks for Kids Program. Their work has saved the Food Bank nearly $3,500 in labor costs that has provided an additional 13,905 meals.

The SCC was created in 1989 by the Legislature to provide state employees with a convenient and responsible system to contribute through payroll deduction to numerous fully-vetted private nonprofit social, health and welfare organizations on a voluntary basis. The United Way oversees the SCC and provides funds to more than 200 charitable organizations throughout Oklahoma. The SCC is governed by the Oversight Committee for State Employee Charitable Contributions (OCSECC), comprised of state employee appointees, which acts as the campaign's board of directors approving charities to participate and overseeing campaign procedures.

In 2017, state employees raised a combined total of over $402,000 for the SCC and the 2018 goal is $405,940. Statewide results will be available in January 2019.


Contact info
Sen. Treat: (405) 521-5656 Jennifer Swearingen: (405) 521-5698 Senate SCC Coordinator & OCSECC member