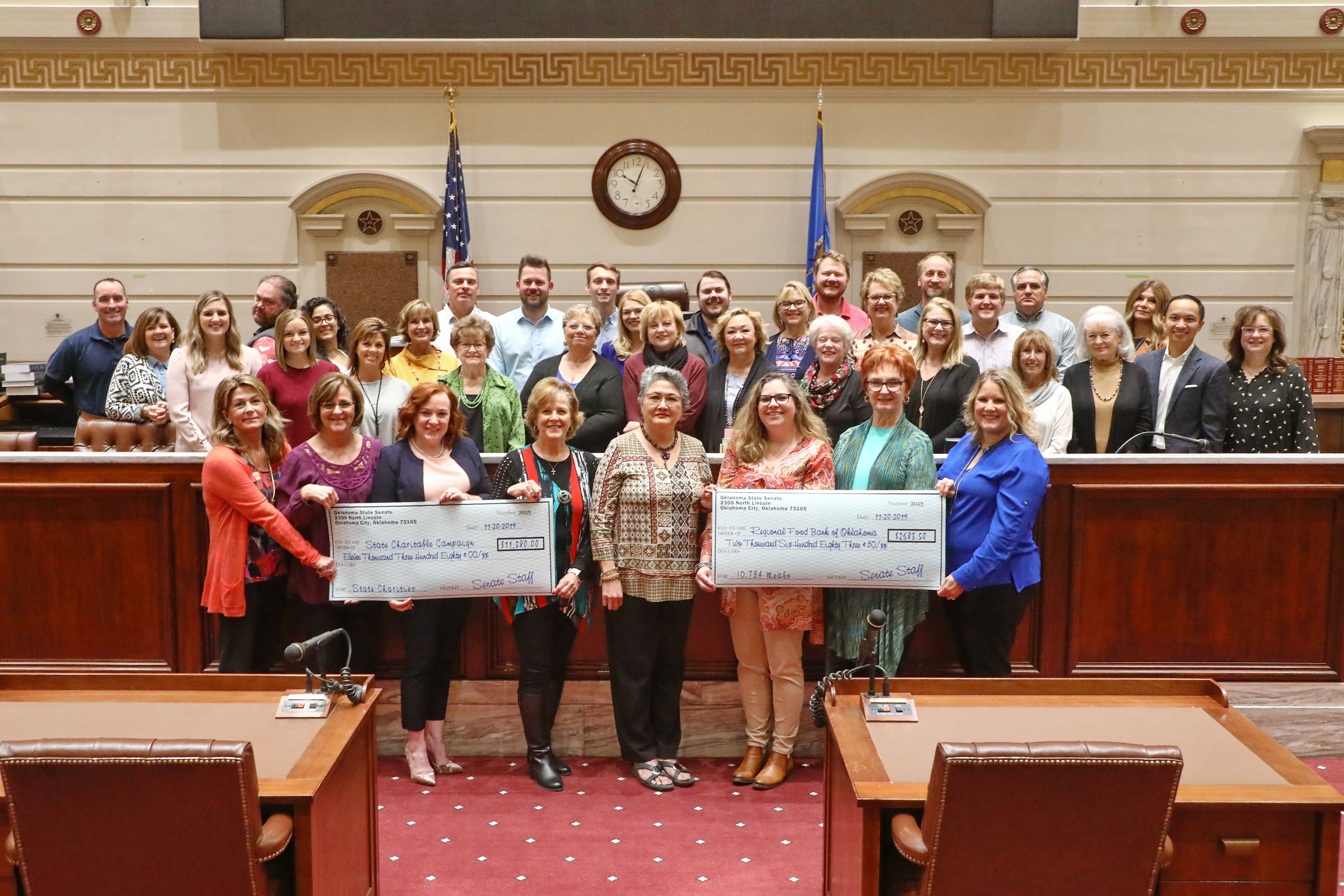 The state Senate recently wrapped up their State Charitable Campaign (SCC) raising more than $14,000 for Oklahoma charities.
The state Senate recently wrapped up their State Charitable Campaign (SCC) raising more than $14,000 for Oklahoma charities.


OKLAHOMA CITY Each year, state employees from around 80 state agencies participate in the United Ways State Charitable Campaign, a statewide effort to help raise funds for more than 250 charitable organizations. The state Senate held their campaign in September and October raising more than $14,000. Senate Pro Tempore Greg Treat commended the Senates generosity and commitment to helping others.
Im very proud of the Senate staffs continued generosity and excitement to support the SCC partners charities and the work they do to help our state and our communities, Treat said. On behalf of the entire Senate, I want to thank the United Way for overseeing this important campaign that makes such an impact on our state and citizens.
This years SCC theme was Step Right Up for Our Community!. The Senate participated in numerous carnival-themed fundraisers during the lunch hour including competitive games like bingo, trivia and bunco. They also had a bake sale, concession stand and staff volunteered to provide breakfasts and lunches. Food trucks, including MOB Grill and Newmans Fire House, also provided lunch for Capitol workers.
This years SCC Chairman Lt. Governor Matt Pinnell thanked the Senate for their contributions to the fundraising campaign.
I would like to thank the state Senate employees for generously contributing to the State Charitable Campaign. They supported several essential nonprofit organizations that are making a positive difference in the lives of those in need, Pinnell said.
The SCC was created in 1989 by the Legislature to provide state employees with a convenient and responsible system to contribute through payroll deduction, cash or check to numerous fully-vetted private nonprofit social, health and welfare organizations on a voluntary basis. The United Way oversees the SCC and provides funds to more than 250 charitable organizations throughout Oklahoma. The SCC is governed by the Oversight Committee for State Employee Charitable Contributions (OCSECC), comprised of state employee appointees, which acts as the campaign's board of directors approving charities to participate and overseeing campaign procedures.
In 2018, state employees raised more than $480,000 statewie with more than $419,000 of that being raised by employees working in the Oklahoma City metro. The 2019 SCC goal for central Oklahoma is just over $425,000. Statewide results will be available in January 2020.
Contact info
Sen. Treat: (405) 521-5565 Senate Media: (405) 521-5698