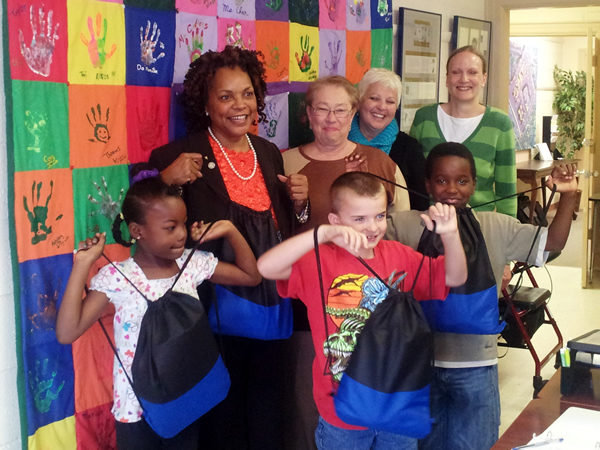 Students at Positive Tomorrows School were excited to receive sackpacks Tuesday, provided by the Office Depot Foundation and the National Foundation for Women Legislators, full of snacks and school supplies donated by Sen. Constance Johnson and other St
Sen. Constance N. Johnson joined with Oklahoma State Senate staff Tuesday to collect food and supplies to fill sackpacks for the children at Positive Tomorrows, an Oklahoma City School for homeless children. Each year in August, the Senator partners with the Office Depot Foundation and the National Foundation for Women Legislators (NFWL) to distribute backpacks to school children. This year, however, the organization sent more items than expected so the legislator was able to help multiple schools as well as organizations that help adults receive educational services.

"During the Thanksgiving holiday, many of us will gather at home with our families and give thanks for our good fortunes. But through no fault of their own, thousands of Oklahoma children, whose families have no place to call their own, will face uncertainty this holiday season," said Johnson, D-Oklahoma County. "What a wonderful blessing it was to all of us to be able to give these sackpacks to such a precious group of children. I was overwhelmed by my Senate family's outpouring of support in donating food and supplies to fill the sackpacks for the kids to take home over the long Thanksgiving holiday. For many of them, the only meals they receive are at school so we felt it was important to send them home with plenty of snacks as well as coloring books and crayons to help brighten their holiday. And we plan on doing it again at Christmas."

The sackpacks, which are a slimmer version of the more traditional backpacks, are provided through the Office Depot Foundation's annual National Backpack Program. The NFWL, of which Johnson is a member and former leader of, then helps get the backpacks into the hands of legislators around the country. Since 2001, the Office Depot Foundation has distributed backpacks to more than 2.5 million kids nationwide. This year alone, they are donating 350,000 sackpacks.

Positive Tomorrows is a private, nonprofit elementary school serving the special needs of homeless children, K-5th grade, in Oklahoma City.

Josh Beasley, Director of Development for Positive Tomorrows, said the donations were greatly appreciated and timely with Tuesday being the students' last day of school before the long holiday break.

"We are so grateful for Senator Johnson and the Senate staff for sharing these gifts with our students," said Beasley. "During this season of giving and sharing, it is wonderful to see our state leaders remember the smallest members of our community affected by homelessness - the children."

Johnson and Senate staff members were able to meet with some of the students during a tour of the facility, which currently serves 35 students.

"I want to thank the Office Depot Foundation and the National Foundation for Women Legislators for providing these sackpacks for students," said Johnson. "For some, backpacks may seem like such a small thing, but for so many students they are a tremendous gift. It shows them that people care about them and their future, which is key to helping build their self confidence and ultimately helping them reach their fullest potentials."

The Office Depot Foundation's National Backpack Program is in its eleventh year. Together, the Office Depot and the Office Depot Foundation have donated more than 2.3 million backpacks since the program began in 2001. NFWL has been partnering with the backpack program for six years and, this year, the Office Depot Foundation will provide the National Foundation for Women Legislators with nearly 18,000 backpacks for distribution by women elected officials in all 50 states.
– 30 –
About the National Foundation for Women Legislators, Inc. (NFWL)
Through annual educational and networking events, the National Foundation for Women Legislators supports women legislators from all levels of governance. As a non-profit, non-partisan organization, NFWL does not take ideological positions on public policy issues, but rather serves as a forum for women legislators to be empowered through information and experience.
About the Office Depot Foundation
The Office Depot Foundation is an independent foundation (tax exempt under IRC Sec. 501(c)(3) that serves as the independent charitable giving arm of Office Depot, Inc. In keeping with its mission, Listen Learn Care®, the Foundation supports a variety of programs that help children succeed in school and in life; enable civil society (non-profit) organizations to become more efficient and effective; help people and businesses prepare for disasters, then recover and rebuild afterwards; strengthen local communities through grants, product donations and volunteerism; and encourage community development through entrepreneurship and economic innovation.
Contact info
, visit www.officedepotfoundation.org. For more information, Sen. Johnson: (405) 521-5531