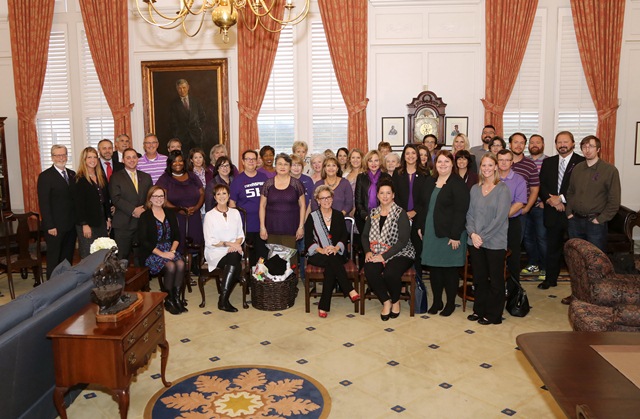 Staff and members of the Senate donated goods and money to YWCA Oklahoma City as part of the agency's annual efforts to support nonprofit organizations throughout Oklahoma.
Every year during the month of October, staff and members of the Oklahoma State Senate plan and participate in a series of competitions and events with the goal of raising money for charities throughout the state of Oklahoma. Its part of the United Ways annual State Charitable Campaign (SCC). Last year, the Senate raised $10,500. This year, senators and staff raised $13,477.
With 158 employees, including 48 senators, their executive assistants and staff, the Senate is a relatively small state agency, but President Pro Tempore Brian Bingman noted they always respond to the annual effort with creativity and enthusiasm as they work to raise more for charity each year compared to the last.
Im extremely thankful and proud of our staff for their tremendous giving spirit, said Bingman, R-Sapulpa. Their generosity never ceases to amaze me. They are an exceptional group of people who are truly motivated to serve and better their community.
Fundraising activities took place throughout the month of October, including a pizza luncheon, a chili cook-off, a bake sale, and office-themed competitions, such as the Capitol Construction Obstacle Course, all held during the lunch hour. Another popular fundraiser gave employees the opportunity to purchase $5 stickers to be able to wear jeans during the interim.
The funds raised will be distributed to a variety of charities throughout Oklahoma, such as the Oklahoma Regional Food Bank, the Homeless Alliance, Positive Tomorrows, Allied Arts, the Red Cross and YWCA Oklahoma City.
Contact info
Sen. Bingman: (405) 521-5780