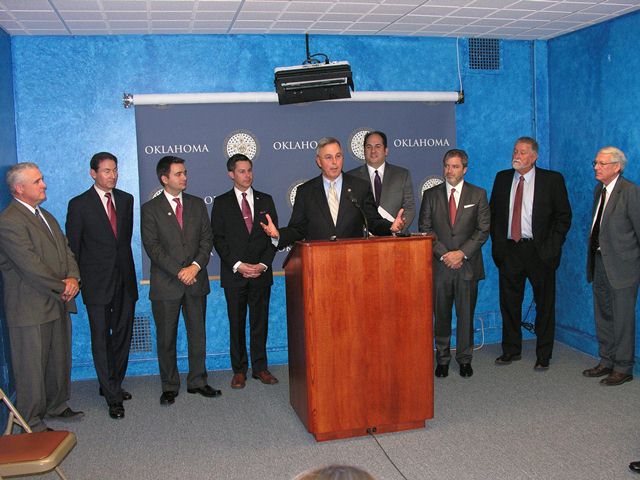 Senate Pro Tem Bingman introduces the seven new members of the Senate Republican Caucus.
Brian Bingman named President Pro Tempore-Elect for the 54th Legislature
Senate Republicans met Wednesday in caucus for the first time since Election Day to name Brian Bingman as President Pro Tempore-Elect. Bingman faced no opposition. Additionally, the Senate Republican Caucus elected Assistant Majority Floor Leaders and Republican Whips for the 54th Legislature's Senate Majority leadership team. The Republican caucus enters the 54th Legislature with a historic 36-12 majority in the state Senate.

"We are committed to moving Oklahoma forward with smaller, simpler, smarter government and a pro-jobs legislative agenda. I am truly honored by the trust my colleagues have placed in me as the leader of the Senate," said Bingman, R-Sapulpa. "Senate Republicans hold a historic majority, and our values reflect those of Oklahoma. We're for limited government, strong free-markets, and prosperity for our state. Senate Republicans, reinforced by seven outstanding new members, are firmly committed to common-sense, conservative solutions."

Bingman, the current President Pro Tempore, will be officially re-elected to the position of Pro Tem on the Senate Organizational Day in January. Additionally, Bingman confirmed Sen. Mike Schultz, R-Altus, will continue to serve as Majority Floor Leader in the 54th Legislature.

On Wednesday, Senate Republicans elected a new leadership team for the 54th Legislature:

Assistant Majority Floor Leaders:
Sen. Cliff Branan, Oklahoma City
Sen. John Ford, Tulsa
Sen. Rob Johnson, Yukon

Majority Whips:
Sen. Rick Brinkley, Tulsa
Sen. Kim David, Porter
Sen. David Holt, Oklahoma City
Sen. Greg Treat, R-Oklahoma City

Majority Caucus Chair:
Sen. Bryce Marlatt, Woodward

Majority Caucus Vice Chair:
Sen. A.J. Griffin, Guthrie

"I want to extend my congratulations to the members of our Majority leadership team. I am excited for the opportunity to work with this exceptional group of senators. We have many challenges to address, but with our conservative leadership and caucus, we're committed to advancing ideas and solutions," said Bingman.

The 54th Legislature will include seven new Republican Senators. Four seats have switched from Democrat to Republican, including Senate District 3 (Wayne Shaw), District 7 (Larry Boggs), District 17 (Ron Sharp), and District 33 (Nathan Dahm). In addition, the Senate will welcome three freshmen in seats that had been held by Republicans with the elections of Senators Rob Standridge (District 15), Corey Brooks (District 43), and Kyle Loveless (District 45).

The new Senate was sworn in on Wednesday, November 14. The Senate will organize on Tuesday, January 8, at which time Pro Tem Bingman will be officially elected, and rules for the 2013 session will be passed.
Contact info
Sen. Bingman: (405) 521-5605