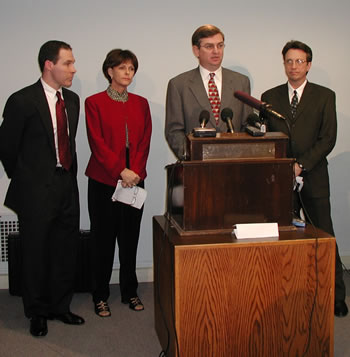 Senate Minority Jim Dunlap at the podium with Minority Whip Scott Pruitt, Sen. Carol Martin and Asst Minority Leader Jim Williamson call for audit of OHCA.
Senate Minority leader Jim Dunlap said he and members of his caucus would ask Governor Frank Keating for an audit of the Oklahoma Health Care Authority, after the agency threatened to send out some 15,000 letters to Oklahomans telling them that without additional funding their services would be terminated. Before that could happen, House Speaker Larry Adair and Senate President Pro Tempore Stratton Taylor announced an agreement to approve a $15.6 million supplemental appropriation to the agency. Senator Dunlap said the action by the OHCA was nothing short of extortion.
Weve been told things changed after September 11th, but the fact is we arent the only state with financial problems. Yet other states are not facing the same kind of threats of losing medical services that Oklahoma has been subjected to. And for the past three years we have been hit with requests for supplemental appropriations. We need to find out where the money is going, said Senator Dunlap, R-Bartlesville.
In addition, Senate Republicans asked the OHCA to roll back any pay increases given to staff at the agency.
After the agency announced it was facing a significant budget shortfall that could prevent thousands of Oklahomans from receiving healthcare, it was reported that the OHCA was granting some $250 thousand dollars in pay hikes already approved for some of their employees. As a gesture of reform, we want to see them roll-back those salaries, so that we can be assured the money going to the agency is going for services, and not for bureaucratic salaries, said Dunlap.
Senator Dunlap said he and other Republicans were also concerned about the frequency with which OHCA adopted emergency rules after legislative sessions had ended.
Theres a very real concern that this may be a way to bypass the legislature and the oversight we have been charged with. It undermines our responsibility and erodes public trust, noted Dunlap.
Im hopeful that Mike Fogarty, director of the agency and its board will welcome our request for an audit, to be done independently, and a review and a report be made public to the legislature, the Governor and the taxpayers of the state of Oklahoma, said Senator Dunlap.
Contact info
Senate Communications Division - (405) 521-5605