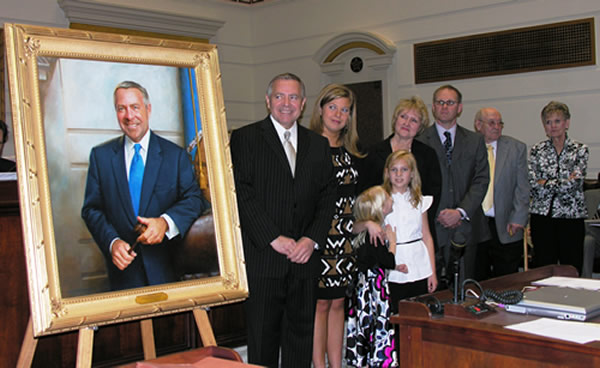 Former Senate Pro Tem Mike Morgan was joined Tuesday by his family for the unveiling of his official Senate portrait.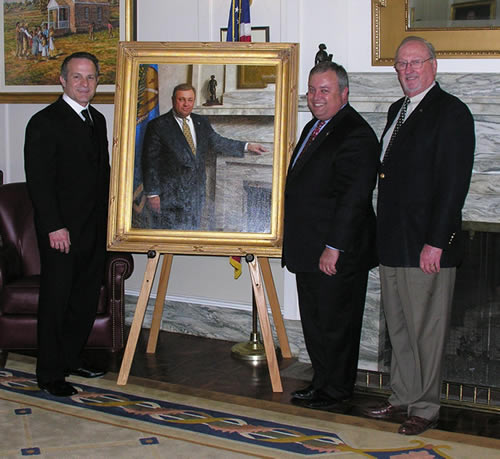 Senate President Pro Tempore Glenn Coffee poses alongside his portrait with artist Mike Wimmer and Senate Preservation Fund president Charles Ford.
The Oklahoma State Senate has had 40 President Pro Tempores since statehood and the Senate dedicated two portraits Tuesday afternoon of former Pro Tem Mike Morgan and the Senate's current leader Glenn Coffee. The portraits by world-renown Norman artist Mike Wimmer were commissioned by the Oklahoma State Senate Historical Preservation Fund.

"As a former Senator, it gives me great pride and pleasure to make sure that our Senate leaders are recognized and given the respect they deserve," said former Senator Charles Ford, president of the Preservation Fund. "I had the honor to work along side both Senators Morgan and Coffee. They are great leaders, citizens and businessmen, and the State of Oklahoma is fortunate to have had them both at the reigns to help lead the state forward."

Sen. Mike Morgan began his political career in 1996 when he was elected to represent Senate District 21, which includes portion of Payne, Logan and Lincoln Counties. During his twelve years in the Senate, he served as Vice-Chair of Education (1997-98); Chairman of the Appropriation Sub-Committee on Retirement and Employee Benefits (1999-2002); and as Vice-Chairman of the Appropriation Sub-Committee on Education (2001-02). He also served as Chair of Appropriations (2003-05) until he was elected as President Pro Tempore of the Senate in March 2005.

During the last two sessions, the Senate became tied 24-24 for the first time in history and he shared the top Senate position with Republican Glenn Coffee. Political experts and commentators predicted gridlock and bitter partisanship, but under Morgan's leadership, the Senate operated in a manner that drew praise from leaders across the state.

"It was such a blessing getting to serve my district and the State of Oklahoma. It was one of the highlights of my life," said Morgan. "I'm honored that my portrait will get to hang in the halls of our beautiful Capitol."

Sen. Glenn Coffee was first elected to the Senate in 1998, quickly gaining a reputation as a leader and a reformer. During his eleven years in the Senate, he has held a number of leadership positions including Republican Caucus chairman (2000-2002), Assistant Minority Floor Leader (2002-2004), and Minority Floor Leader (2004-2006). He then served as Senate Co-President Pro Tempore (2007-2008) after the Senate became tied following the 2006 elections. After the Republicans gained control of the Senate for the first time in Oklahoma history, Coffee became the 40th President Pro Tempore of the Senate and the first Republican to ever serve in the position.

"What a tremendous honor to have a portrait done by such a famous artist and know that it will be in the Capitol long after I'm gone for my great, great grandchildren and others to see," said Coffee, R-Oklahoma City. "I have been so blessed with my family, in work and by getting elected to the State Senate. It is the greatest legislative body in the country, and I'm so proud to get to have served and serve with some of the finest men and women in the state."

With the addition of the two new portraits, Wimmer has 26 works in the State Capitol, the most of any Oklahoma artist.

"It's a tremendous honor to be asked to do these portraits and other works of art portraying our state's history. Every piece of art has a story to tell, and I hope these works portray the great love these two men have for their state," said Wimmer. "I enjoyed working with Senators Morgan and Coffee on these portraits, and I'm looking forward to working on many more Capitol pieces in the future."

The portraits and other works of art can be viewed on the Senate website at www.oksenate.gov.


Contact info
Charles Ford's Office - (405)-521-5675 Senate Media Office - (405) 521-5698