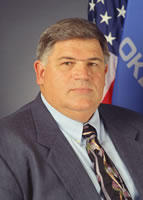 Senator Johnnie Crutchfield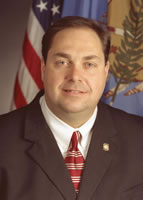 Senator Jay Paul Gumm
OKLAHOMA CITY- Senate President Pro Tempore Mike Morgan and two members of his leadership team said Wednesday they agree with Assistant Majority Leader Jeff Rabon that something needs to be done immediately to address the needs of rural fire departments that have depleted resources fighting a record number of wildfires in recent weeks.
Morgan, Appropriations Chairman Johnnie Crutchfield and Assistant Majority Leader Jay Paul Gumm said Senate leadership is working closely with the Governors office to find ways to cash flow the operational funds to rural fire departments as soon as possible.
"Some in the Legislature may believe that operational grants for rural fire departments have nothing to do with fighting fires, but in the Senate we know this irrational thinking couldn't be further from the truth," Appropriations Chairman Johnnie Crutchfield said. "Operational grants provide the tools necessary to help rural fire departments purchase everything from the gas they use to run their trucks to the equipment they purchase to fight dangerous fires."
The senators said they will push for supplemental state funding for rural fire departments early in the coming legislative session and expect Senate Agriculture Chairman Daisy Lawler to be involved in the negotiations.
Crutchfield said even fire departments in line to receive federal assistance to off-set the costs of fighting the blazes that burned hundreds of thousands of acres of land are still facing large unexpected costs from their efforts. The Federal Emergency Management Administration will only pay 75 percent of the costs.
Gumm, a Democrat from Durant, said the state has a responsibility to reimburse the affected rural fire departments immediately.
"In a normal year, these rural fire departments would have been stretched to the limit as they protect our families, our homes and our property. This is not a normal year," Gumm said. "These volunteers are our neighbors, our friends and our co-workers who give of themselves to protect their communities, family, friends and neighbors."
President Pro Tempore Mike Morgan said every option is on the table to help make rural fire departments whole again, after rural fire departments have been brought to their knees protecting farm and ranch land, churches, businesses, livestock and families.
"We're going to look at every available option," Morgan said. "To do anything less would be irresponsible and I commend Senator Rabon for taking the lead on this issue."
The Senators said that volunteer firefighters protect the lives, homes and property of rural Oklahomans for absolutely no pay.
"Their work saves us money in the form of reduced fire insurance rates," Gumm said. "These volunteer heroes perform this often thankless task for one reason: It is the right thing to do."
President Pro Tempore Morgan said the pledge to rural fire departments across the state is simple.
"We in the Senate Democratic leadership will get you the resources you need to protect Oklahoma families as quickly as possible, making certain the miracle of rural fire protection does not fade into smoke," Morgan said.


Contact info
Senate President Pro Tem's Office- (405) 521-5605