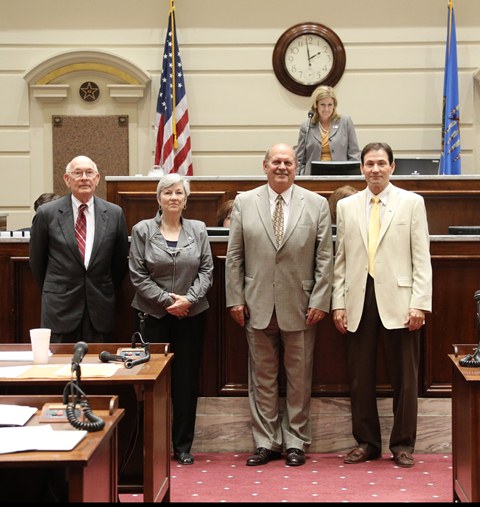 The Senate honored the life and accomplishments of Gordon Cooper Wednesday on the 50th anniversary of his space flight on May 15, 1963 with Senate Resolution 34. Pictured (L-R): Dr. Tom Terry, Judith Michner, Shawnee mayor Wes Mainord and Sen. Ron Sharp
The Senate honored the life and accomplishments of Oklahoma's son, Gordon Cooper Wednesday on the 50th anniversary of his spaceflight. Sen. Ron Sharp presented Senate Resolution 34 declaring the day as "Gordon Cooper Day" in Oklahoma.

"Gordon Cooper was an American hero who forever changed how our country looked at space travel. He was a brilliant man who was dedicated to his career and fearless in helping move the industry forward," said Sharp, R-Shawnee. "As an educator, I admire him because he helped excite our nation and youth about science, aeronautics, astronomy and so many other areas. He was a great person with an outstanding career and I was so proud to honor one of Shawnee's and Oklahoma's sons."

Gordon Cooper was an American aeronautical engineer, test pilot and one of the seven original astronauts in Project Mercury, the first manned space program of the United States.

He was born in Shawnee on March 6, 1927 and grew up in the community. He received his commission to the U.S. Air Force in 1949 and received his first flight assignment in 1950 at Landstuhl Air Base in West Germany where he flew F-84 Thunderjets and F-86 Sabres. He completed his bachelor's degree in aerospace engineering at the Air Force Institute of Technology in Ohio in 1957 before being assigned to the Experimental Flight Test School at Edwards Air Force Base in California. After graduation, he was posted to the Flight Test Engineering Division at Edwards, where he served as a test pilot and project manager testing the F-102A and F-106B. Cooper logged more than 7,000 hours of flight time, with 4,000 hours in jet aircraft. He flew all types of commercial and general aviation airplanes and helicopters.

While at Edwards, he went to Washington, D.C. for a NASA briefing on Project Mercury and was selected from 109 pilots to become the youngest of the first seven American astronauts. Cooper was launched into space on May 15, 1963, aboard the Mercury-Atlas 9 (Faith 7) spacecraft, the last Mercury mission. He orbited the Earth 22 times and logged more time in space than all five previous Mercury astronauts combined at just over 34 hours traveling 546,167 miles at 17,547 mph. He was the first American astronaut to sleep not only in orbit but on the launch pad.

Two years later, he flew as command pilot of Gemini 5 on an eight-day, 120-orbit mission with Pete Conrad. The two astronauts set a new space endurance record by traveling a distance of just over 3.3 million miles in nearly 191 hours, showing that astronauts could survive in space for the length of time necessary to go from the Earth to the Moon and back.

Cooper was the first astronaut to make a second orbital flight. He later served as backup command pilot for Gemini 12 and Apollo 10 but was not selected as commander of Apollo 13. Colonel Cooper retired from NASA and the Air Force in July 1970 having flown 222 hours in space.

Sen. Sharp presented the resolution to Shawnee Mayor Wes Mainord.

"What an honor for us to receive this from such a distinguished group and from our Senator Ron Sharp," said Mainord. "On behalf of the 30,000 people in Shawnee and the residents of Pottawatomie County, I want to say thank you for recognition of one of the finest people to come through our city. It's a great honor for you to bestow this upon Gordon Cooper and our city."

Mainord was joined by Judith Michner, a retired member of the Oklahoma Historical Society and present board member on the Pottawatomie County Historical Society, who created the display over Cooper that is located at the Gordon Cooper Technology Center.

"I'm so privileged to be a part of this project for the Pottawatomie County Historical Society," said Michner. "I was very fascinated by the research I was doing on Colonel Cooper. One of the stories I found so interesting and that demonstrated so clearly the man's ability as a pilot was that he was the first to have to manage a manual re-entry from a space flight. The computers couldn't handle the re-entry - something went wrong, so he calmly took over the controls and landed that capsule within one mile of the original touchdown site, which I think is an incredible feat. I'm so grateful to be able to be a part of this project and thank you so much for your recognition of our wonderful Pottawatomie County."

Also present was Dr. Tom Terry with the Pottawatomie County Historical Society. He explained that Michner's display was sponsored by the Shawnee Junior Service League. It is currently located at the Gordon Cooper Technology Center and will be on display at the Shawnee Library next month. It will then be traveling to various schools throughout the county for the remainder of the year.
Contact info
Sen. Sharp: (405) 521-5539