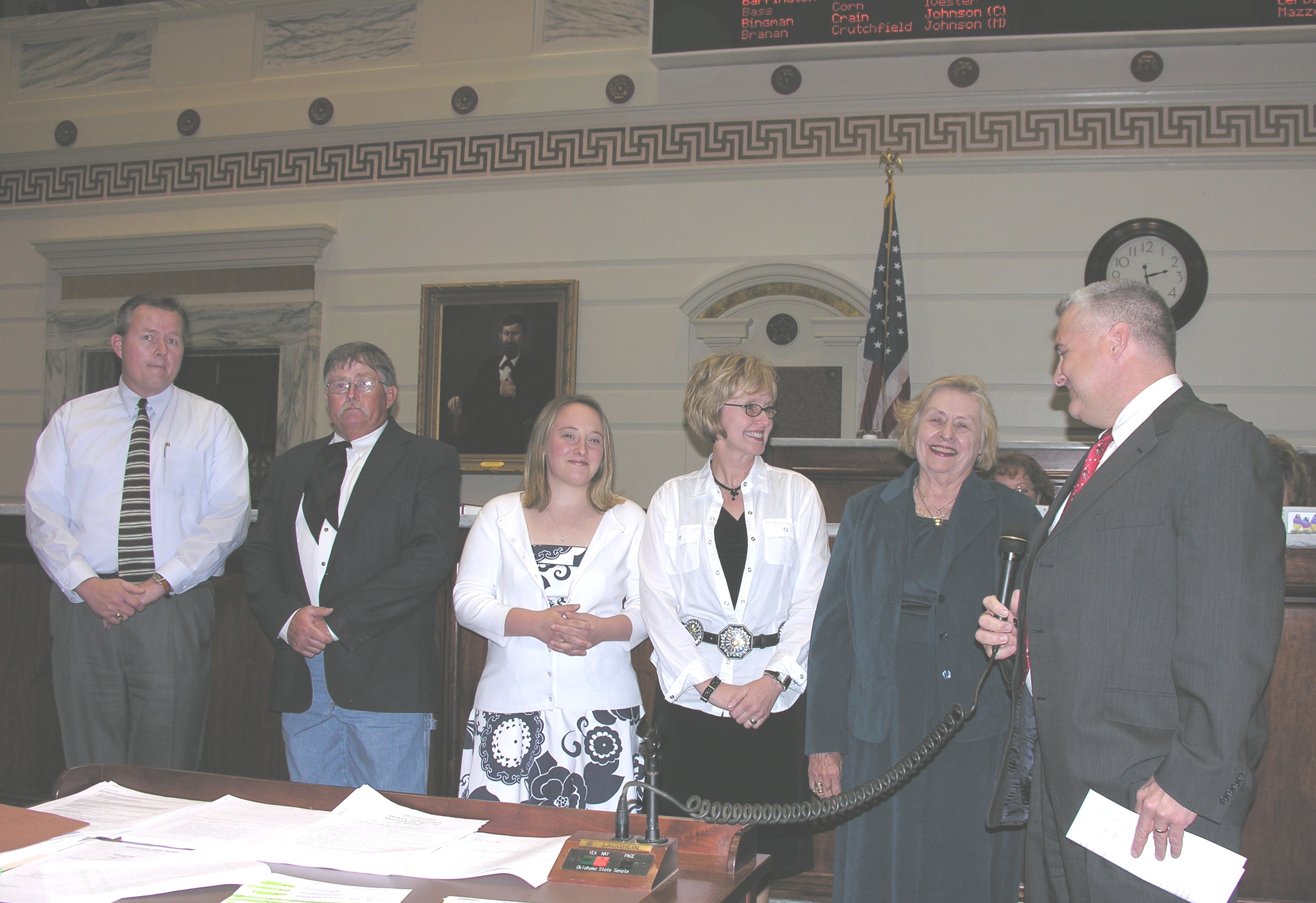 Robbie Kerr and members of the Kerr family are introduced to the Senate by Sen. Mike Schulz
The State Senate on Monday honored the distinguished life and career of the late Senator Robert M. Kerr with the passage of Senate Concurrent Resolution 32, dedicating the "Senator Robert M. "Bob" Kerr Memorial Highway" in Jackson County.
The soft-spoken Senator from Altus was first elected to the state Senate in 1986 and served through his passing in 2006.
Sen. Mike Schulz, author of SCR 32, said Kerr would always be remembered as a gentleman who had the respect and admiration of everyone at the State Capitol.
"As a public servant and a family man, Senator Kerr set an example that all of us would do well to emulate," said Schulz, R-. "As a Senator, he was an advocate for the best interests of his district above all else, and was respected by everyone on both sides of the aisle."
Kerr was a farmer, a real estate developer and stockman who served in various positions of leadership in the Senate. After just two years in office, Kerr was named Chairman of the Agriculture Committee and would later serve as Chair of the Rules Committee and the Appropriations Subcommittee on Human Services. In 2004, he was appointed Assistant Majority Leader of the Senate.
Schulz said Kerr would be remembered as a strong supporter of Oklahoma's agricultural industry. Kerr authored the Rural Economic Development bill, worked to improve highways in western Oklahoma and was a longtime supporter of increasing oil and gas production.
"Senator Kerr worked tirelessly on behalf of rural and western Oklahoma," Schulz said. "His work to improve our roadways makes this dedication a fitting tribute to a man who accomplished so much and was so well-liked by his fellow members."
SCR 32 dedicates State Highway 283 from Tamarack Road in Altus to the Jackson County line as the "Senator Robert M. "Bob" Kerr Memorial Highway.
Contact info
Senator Schulz's Office: (405) 521-5612