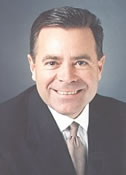 Senator Mike Morgan, D-Stillwater
(Oklahoma City) The State Senate has approved legislation that will strengthen the financial standing of Oklahoma's largest state retirement system.
SB 1376 by Sen. Mike Morgan would increase the amount of state revenue that flows into the Oklahoma Teachers Retirement System each year, ultimately cutting its unfunded liability in half.
"This will put the teachers retirement system on firmer financial footing. The stronger the system is, the better the benefits we can provide to our retired educators in the future," said Sen. Morgan.
Under the provisions of SB 1376, the state's dedicated revenue contribution to OTRS would be increased from approximately 3.5 percent to 5 percent over a six-year period. The change would ultimately result in an additional annual contribution of $66.5 million to OTRS, drastically reducing its unfunded liability.
Currently, actuaries estimate that it will take 62.2 years to pay off the unfunded liability of the OTRS. However, SB 1376 would reduce that to 36.8 years.
"We owe a great debt to our teachers and it's important for us to make sure that their retirement system is in the best shape possible. This legislation will help guarantee that," said the Stillwater legislator.
SB 1376 now goes to the State House for final approval.
The State Senate approved a cost-of-living adjustment for retired teachers on Wednesday. Under SB 1231 by Sen. Morgan, all retired teachers will receive a 3 percent COLA. Educators with 30 years of service will receive 4 percent.
Contact info
Senate Communications Division - (405) 521-5605