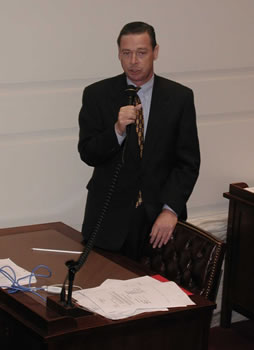 Sen. Larry Dickerson (D-Poteau) explains the state employee compensation bill on the Senate floor.
The State Senate has approved legislation that would increase health benefits for all state employees, in addition to raising the pay of such high-turnover positions as state correctional officers and state nurses.
SB 702 would authorize the appropriation of approximately $36 million for a state employee pay package. Among other things, the measure would provide a $4,000 pay hike to state prison guards and a $2,100 salary increase to nurses at state veterans centers and other facilities.
"This will enable state employees and their families to have access to better, more affordable health care. For the thousands of them who are struggling to make ends meet and pay rising health care costs, this will provide a small but welcome bit of assistance," said Sen. Larry Dickerson, who handled the legislation on the Senate floor.
"For the people who are on the front lines at our state prisons and veterans centers, it will also deliver a much-needed pay raise. They perform a vital but often thankless task and deserve to be justly compensated for all of their hard work."
The legislation earmarks $11.7 million to raise the health benefit allowance of state employees. It also designates $17.9 million for state prison employee salaries and $6.3 million for the pay of state nurses, patient care assistants and transportation technicians.
Pay Raise Distribution State correctional officers, parole officers
and other certified staff $4,000 salary increase Classified DOC employees and parole
investigators $2,000 salary increase Nurses (vet centers, DHS, OJA, health dept.,
JD McCarty center and mental health) $2,100 salary increase Patient, direct care assistants $1,550 salary increase Transportation technicians $1,300 salary increase
"Even though they perform an invaluable service, these employees are among the lowest paid workers in state government. The people who take care of our veterans or put their lives on the line in state prisons deserve better. We can't continue to pay them poverty wages for the difficult and demanding work that they do," said Sen. Dickerson.
An unusually high turnover rate is one of the biggest problems facing the state in these employment classifications. Retaining employees in prisons and veterans centers is becoming increasingly difficult, but a pay raise should improve the employment climate, according to Sen. Dickerson.
"Because of the low wages, the turnover rates in those positions have been staggering. It's impossible to ensure that our veterans will get the best care possible when we can't retain the high quality professionals necessary to do the job. This pay raise will go a long way toward addressing that problem," said Sen. Dickerson.
SB 702 passed the Senate on a 40-0 vote. It now goes to the House for consideration.
Contact info
Senate Communications Division - (405) 521-5605