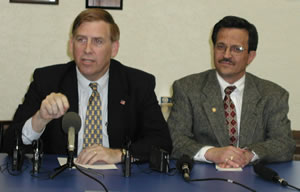 Senator Keith Leftwich and Representative Al LIndley discuss legislation to fight prostitution
Legislation to crack down on prostitution, pimps and their customers has made it half-way through the legislative process; thats after the full Senate Approved Senate Bill 1502. Senator Keith Leftwich and Representative Al Lindley co-authored the measure in response to complaints that hookers and pimps had overrun an Oklahoma City metro neighborhood.
For too long people have looked the other way, or shrugged it off because as far as they could see it really wasnt a serious problem. Id invite them to talk to some of the families who live in my district. Their children have been propositioned walking home from school. Parking lots and yards are littered with used syringes and condoms. We made a pledge to these residents that we would help make their neighborhoods safe, and thats what we intend to do, said Senator Leftwich, D-OKC.
The focus of the Senate Bill 1502 is to make the business of prostitution too expensive for those involved. Among the changes in state law the bill would make:
First offense fines for prostitution and pimping would be raised to $2,500
Second offense fines raised to $5000
Fines for subsequent offenses raised to $3000
Ending the Own Recognizance bail-out system to stop the revolving door for prostitutes and pimps
Fines for customers raised to $3000 for a first offense and $6000 for subsequent offenses
Prostitution within 1000 feet of a school or church would be a felony
Now that Senator Leftwich has won full approval in the Senate, the process begins all over on the House side. Our first step is to have the bill heard and approved by a House committee. Im hopeful our members, like the Senate, will help our law abiding citizens reclaim their neighborhoods by passing SB 1502, said Representative Lindley, D-OKC.
Contact info
Senate Communications Division - (405) 521-5605