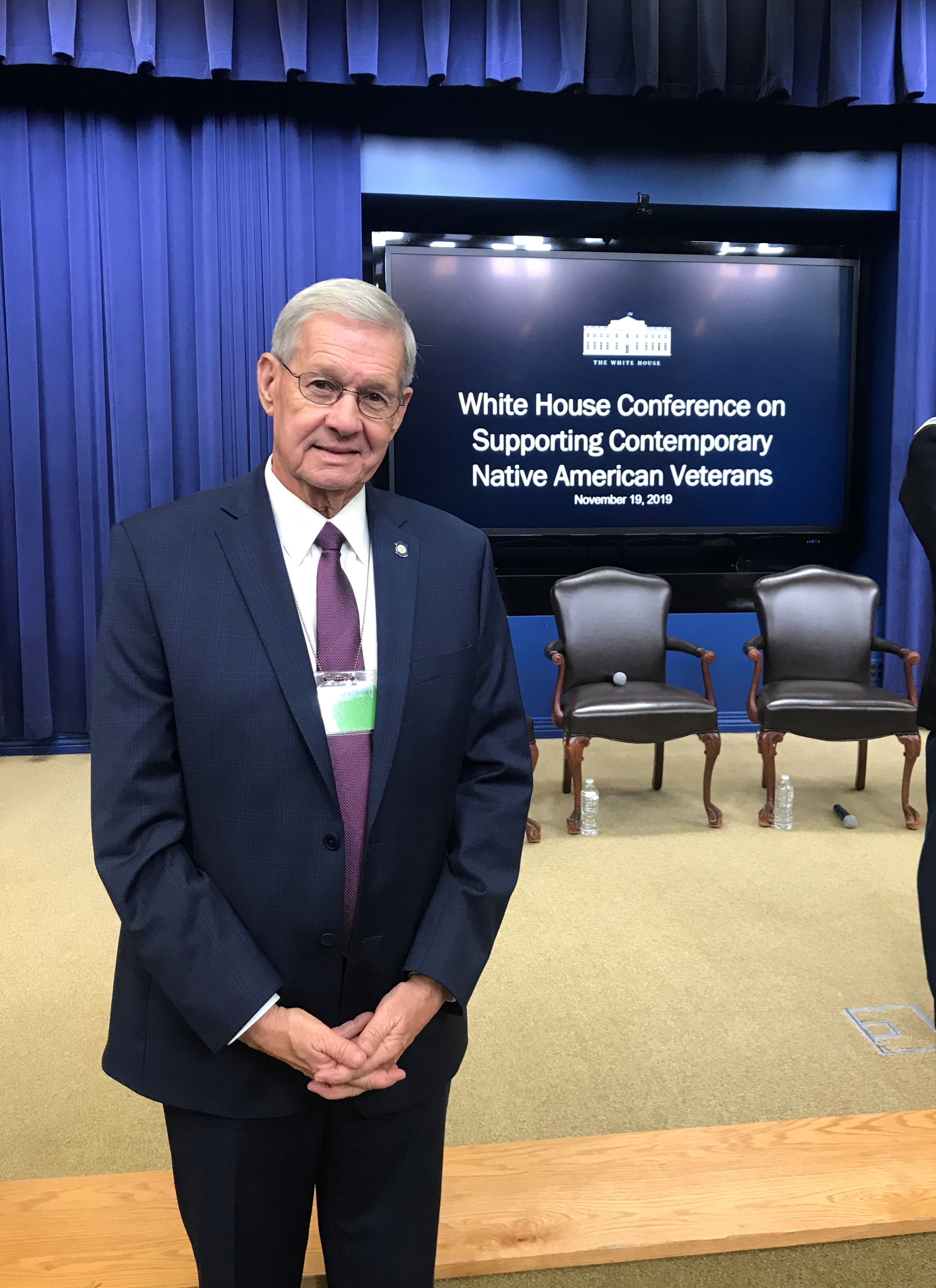 Sen. Simpson at DC conference
Sen. Simpson at DC conference


OKLAHOMA CITY On Tuesday, Sen. Frank Simpson attended a White House Conference to discuss issues facing todays veterans as well as honor contemporary Native American veterans. Simpson, a retired Navy veteran and Chairman of the State Senate Committee on Veterans and Military Affairs, was invited by the White House Office of Intergovernmental Affairs.
This month, as we celebrate the brave men and women of our armed forces, both active and retired, I was honored to be invited to be a part of this important conversation and represent Oklahoma veterans, said Simpson, R-Springer. It was very encouraging to hear from agency heads what the Trump Administration is doing to support our veterans. I am confident that President Trump is committed to making sure the needs of our veterans are being met.
Attendees included tribal, state and federal officials, veterans and representatives of organizations that provide services to veterans. The Secretaries of Labor, Veterans Affairs, Commerce and Interior participated in a panel discussion to share what services their agencies are providing for veterans. Among other topics, members discussed healthcare, housing, job training, entrepreneurialism and pathways to prosperity post-service.
The Secretary of Labor said that veteran unemployment is just over three percent, which isbelow the national average, and unemployment among younger veterans is less than two percent.
The Veterans Administration (VA) and U.S. Department of Health and Human Services (HHS) are working together to expand services to prevent veteran suicide. Currently, 22 veterans take their lives each day. One of their priorities is implementing a more effective national hotline to ensure that every caller is immediately put in contact with a professional that can help them.
The administration is working to evaluate and improve crucial transitional services for those who are leaving active duty and returning to civilian life.
Speakers mentioned that better cooperation is needed among the states to ease professional licensing and permitting requirements to make finding meaningful employment easier for military spouses. They pointed out that too often military spouses professional qualifications are not recognized in other states making it difficult to obtain employment.
Oklahoma recently surpassed California as having the highest veteran population per capita. One percent of the U.S. population has served in the armed forces whereas ten percent of Oklahomans have served.
The conference also honored those Native American veterans who have served in U.S. conflicts and operations post-9/11. Simpson noted that 30 percent of Native Americans in Oklahoma have served in the military.
Native American veterans have a strong legacy in our military, and its important that we ensure theirs and all members service is honored by continuing to support them when their work is done. This was a productive discussion that I feel will be greatly beneficial to our veterans, especially Native American service members, many of whom live in Oklahoma, said Simpson.
During World War I, more than 10,000 Native Americans volunteered to serve in the U.S. military even though they were not considered citizens. As many as 25,000 Native Americans volunteered to serve in WWII.
Vice President Mike Pence spoke at the conference sharing his fathers experience in Korea with the 45th and the challenges he faced after returning to civilian life. He announced that during a recent cabinet meeting President Trump charged every cabinet secretary with ensuring their agency was meeting all the needs of the veterans they serve.
Contact info
Sen. Simpson: (405) 521-5607