OKLAHOMA CITY – A bill aimed at cutting costs for those who use groundwater in Oklahoma was celebrated at a ceremonial signing in the governor's blue room at the state Capitol last month.  Sen. Roland Pederson, R-Enid, authored Senate Bill 1294 this year and says the measure offers significant savings for many across the state.
The bill grants the Oklahoma Water Resources Board (OWRB) the flexibility to allow for delayed or gradual implementation of the equal proportionate share after the determination of a maximum annual yield under certain conditions.  The measure stipulates the OWRB may allow for this delayed/gradual implementation only if the current total allocated amount of groundwater from an aquifer is 25% or less of the maximum annual yield preserving the life of the basin. The gradual/delayed implementation must be part of the maximum annual yield final order or as amended.  Additionally, the new law allows the OWRB to implement well spacing distances for aquifers without an approved maximum annual yield and provides additional protections for existing domestic users. 
"By allowing more flexibility in the manner the Oklahoma Water Resources Board partners with cities, rural water districts and irrigators, it greatly benefits the management and usage of aquifers in Oklahoma," Pederson said.  "It was an honor to author and guide this bill through the legislative process this year."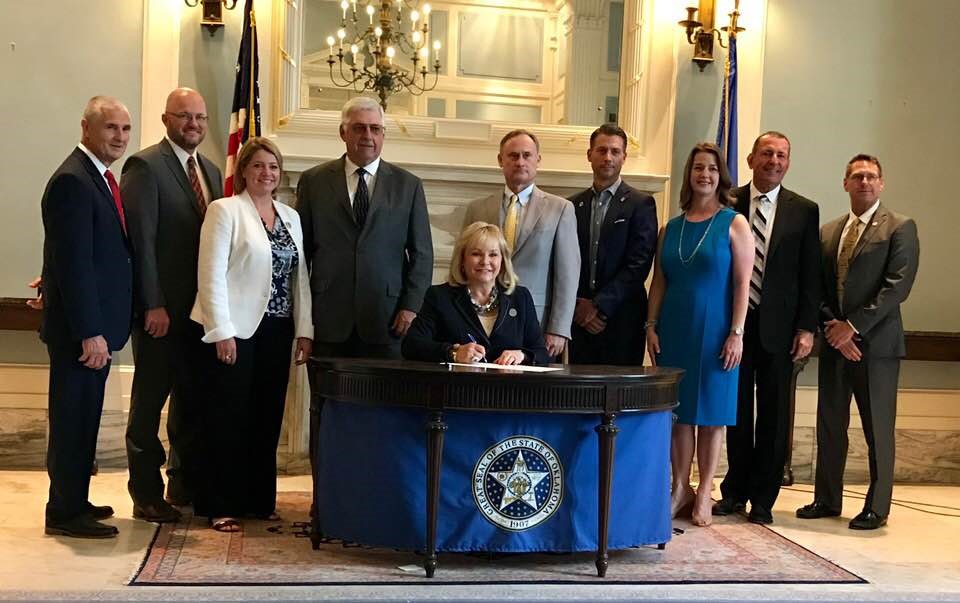 Several attended the ceremonial bill signing of SB 1294 at the state Capitol.  Pictured from left to right are:  Kent Wilkins with Oklahoma Water Resources Board (OWRB), Brent Kisling with Enid Regional Development Alliance (ERDA), Julie Cunningham with OWRB, Senator Roland Pederson, Governor Mary Fallin, Chris Gdanski with the City of Enid Engineering Dept., Michael Graves with Garver Engineering, Lisa Powell with Enid Regional Development Alliance, Duane Smith with Smith and Associates, and Owen Mills with OWRB.