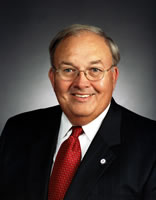 Senator Richard Lerblance
Oklahoma should consider sentencing reform as an alternative to building more prisons, said Senator Richard Lerblance, Chairman of the Oklahoma Sentencing Commission.
"We need to think outside the box on how to fix the Department of Corrections' prison-crowding crisis," said Lerblance, D-Hartshorne. "We need to take this opportunity to re-examine exactly who we as a society are demanding to be locked up and ask if imprisonment is the best solution to that problem."
According to the U.S. Bureau of Justice Statistics, the latest national report shows Oklahoma has an incarceration rate of 649 inmates per 100,000 residents, ranking fourth in the nation. Oklahoma continues to rank first in the nation in female incarceration.
In a study released Wednesday, the Bureau also reports that among state prisoners across the country, 53 percent reported drug dependence or drug abuse problems.
"Just building another prison won't fix the core problem. For fully half of the people who go to prison each year, the real problem is that they're drug addicted or mentally ill. Sure they've broken the law; that's not disputed. But we should be asking, why isn't government doing something about these people's problems until they get arrested and convicted?"
Lerblance has suggested a number of proposals that the Sentencing Commission and Legislature should consider as a means of containing the perpetual crisis in prison funding:
Expand drug and mental-health courts, and create structured sentencing for drug offenders so that there is a uniform policy statewide on how the criminal justice system deals with offenders who ought to be diverted from prison.


Cap the maximum length of a revocation sentence at 2 years.


Revise mandatory minimum sentences, such as Life Without Parole for certain drug trafficking offenses, that contribute to crowding without protecting the public.


Make expungment of criminal records easier for certain low-risk felons so that ex-offenders are more employable and less likely to resort to crime to pay their bills.


Compare Oklahoma's criminal code to states like Kansas, whose incarceration rate is half that of Oklahoma despite nearly identical demographics.
"We've tripled prison spending over 17 years," said Lerblance, noting that the DOC budget has grown from $143 million annually in FY'90 to $456 million for FY'07. "If I felt three times safer today than I did 17 years ago, or if my insurance rates had gone down to a third of what they were 17 years ago, I wouldn't question the wisdom of building more prisons."
Despite the tripling of corrections spending, Lerblance said crime has not been significantly reduced and noted the risk of being a victim has not changed.
"Building another prison today may be a quick answer to our problem, but it's not the best answer. Government should operate like a business and identify and find the most cost-effective solution to society's problems."
Contact info
Sen. Lerblance at 918-297-2501.