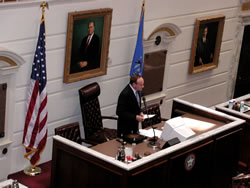 Senate President Pro Tempore Cal Hobson addresses the Senate
(Oklahoma City) Citing the state budget crisis and other pressing issues, the new leader of the Oklahoma State Senate is urging policy makers to put aside their differences in the coming legislative session and work together for the good of the state.
Senator Cal Hobson made those comments Tuesday afternoon after he was formally elected Senate president pro tempore during a one-day organizational meeting of the Oklahoma Legislature. The president pro tempore position is the top leadership post in the Legislature's upper chamber.
After his election, the Lexington Democrat addressed his colleagues in the Senate chamber, focusing his remarks on the many challenges that state officials will face in the months to come, namely the state budget crisis.
"If we can all come together in a bipartisan way, we can give Oklahoma a great chance of continuing the improvements that it has experienced in recent years. Some say our current problem is as difficult as any we have faced since World War Two. I need your help if we are going to be successful in meeting the challenges that we face," said Sen. Hobson.
Tuesday marked the official beginning of Sen. Hobson's first two-year term as Senate leader. The president pro tempore sets the agenda for the upper legislative chamber and is second in the line of succession to the governor, serving as state chief executive when both the governor and lieutenant governor are out of state.
In addition to electing Sen. Hobson to the post of president pro tempore Tuesday, senators took advantage of the organizational day to complete some basic housekeeping chores, such as the adoption of Senate rules for the 49th session of the Oklahoma Legislature. The 2003 session will officially reconvene on February 3rd.
Contact info
Senate Communications Division - (405) 521-5605