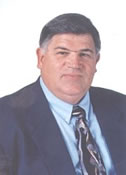 Senator Johnnie Crutchfield
The State Senate has given final approval to a measure intended to make sure more World War II vets who left high school to join the service are eligible to finally receive their diplomas. Senator Johnnie Crutchfield is principal author of Senate Bill 900.
"The original measure required World War II veterans to have 18 months of consecutive service in order to be eligible for a high school diploma. Unfortunately that inadvertently caused some very worthy heroes to be left out of the program. SB 900 corrects that," explained Senator Crutchfield, D-Ardmore.
In addition, SB 900 was amended to include another group of Oklahoma Veterans.
"As in World War II, during the Korean War there were also Oklahoma teens that left high school early to serve their country. Now those veterans will be able to get their diplomas as well," noted Crutchfield.
"This past year, we've seen several high schools around the state hold special ceremonies to award our veterans those long-delayed diplomas. Time and time again I've heard people say it was one of the most moving events they'd ever witnessed. I'm very pleased that we've been able to find a way to ensure more of these heroes and their families can share this experience," said Senator Crutchfield.
SB 900 now goes to Governor Frank Keating for his approval.
Contact info
Senate Communications Division - (405) 521-5605