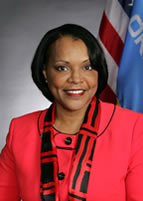 Sen. Constance N. Johnson
The voting rights of convicted felons in Oklahoma will continue to be suspended for the length of time prescribed in the judgment and sentence, including time on probation or parole. Senate Bill 1307, by Sen. Constance N. Johnson, was defeated earlier this week by the Senate Rules Committee. The bill would have restored felons' voting rights when they are no longer in prison. Also known as the Oklahoma Restoration of Voting Rights Act, the bill mirrors legislation, S. 2017, introduced by Democrat Senators Richard Durbin of Illinois and Sheldon Whitehouse of Rhode Island. That measure is currently being considered by Congress.

"Voting is both a fundamental right and a civic duty, yet even after people have paid their debt to society, we continue to punish them and make them feel that their opinions don't matter," said Johnson, D-Oklahoma County. "I'm concerned that so many of my colleagues would deny this basic right of citizenship to those who have served their time and are no longer in prison. Voting is essential to the process of reintegrating into society. The fact that we are so unforgiving is a sad state of affairs."

Johnson noted that many people are released early for good behavior or other reasons, yet they will still be unable to vote until the original time of their sentence passes, which could be several years. The bill also included a process to ensure that those who are in custody, but not convicted, would also be able to vote.

"When individuals are released from prison, they are expected to follow the rules of being a responsible citizen – find a job, pay taxes and obey the law, yet the full rights of citizenship are being withheld," said Johnson. "It's unfair and it keeps people from fully reintegrating into society when we continue to treat them like throw away citizens. Someday, we need to right this wrong."

The measure failed with ten Senators voting against it (Senators Rob Johnson, Jonathan Nichols, Patrick Anderson, Cliff Branan, Eddie Fields, John Ford, David Holt, Dan Newberry, John Sparks and Charles Wyrick) and only five Senators supporting it (Sen. Josh Brecheen, Judy Eason McIntyre, Jerry Ellis, Earl Garrison and Al McAffrey).


Contact info
Sen. Johnson: (405) 521-5531