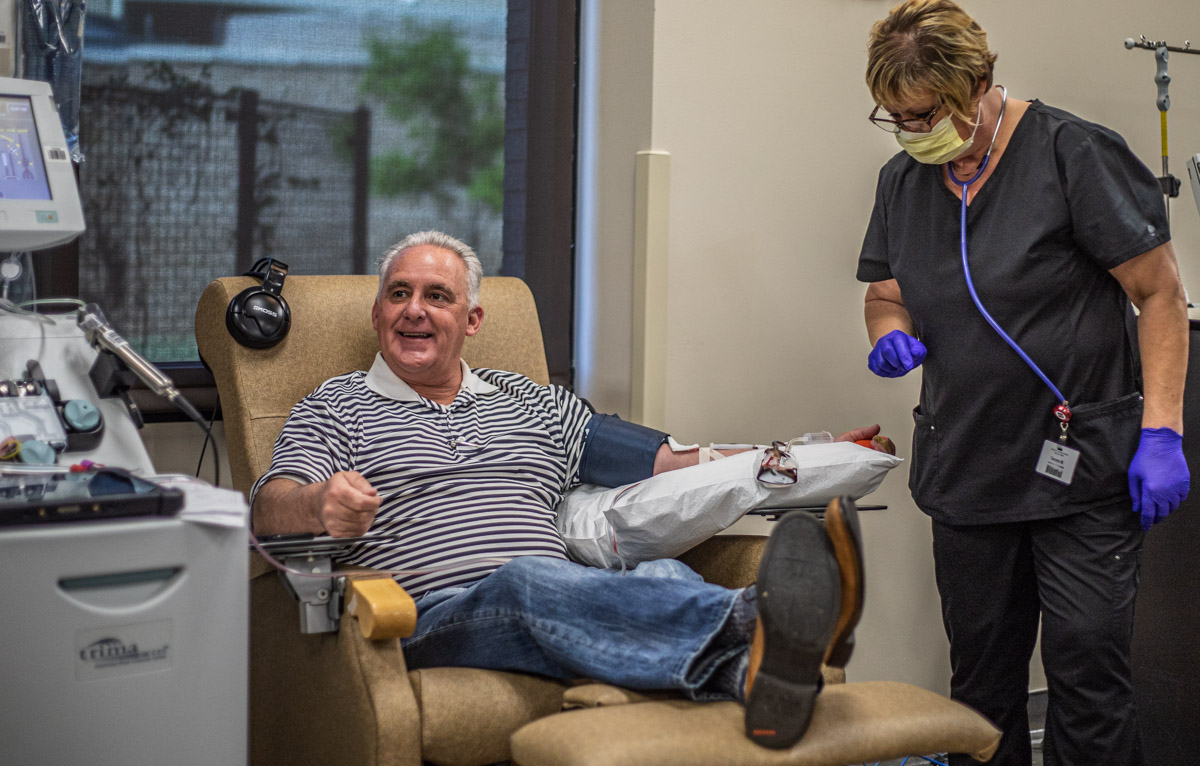 Sen. Paul Rosino, R-Oklahoma City, having plasma drawn by phlebotomist Tamara Mosley, at the Oklahoma Blood Institute.  Rosino has recovered from COVID-19 and answered the OBI's call for convalescent plasma donations to help treat others who are seriously ill with the virus.
It's been nearly a month since Sen. Paul Rosino was diagnosed with COVID-19 and now he's helping others who are critically ill with the virus by answering a request from the Oklahoma Blood Institute (OBI) for convalescent plasma.
Plasma from those who have recovered from the coronavirus has shown promise for treating others who are seriously ill with the disease.  Rosino, R-Oklahoma City, donated his plasma Thursday at OBI in Oklahoma City and urged his fellow Oklahomans who've recovered from COVID-19 to do the same. 
"People who have fully recovered from COVID-19 have antibodies in their plasma that can attack the virus. This convalescent plasma is being evaluated as treatment for patients with serious or immediately life-threatening COVID-19 infections, or those judged by a healthcare provider to be at high risk of progression to severe or life-threatening disease," Rosino said.
In order to donate convalescent plasma, individuals must be eligible to donate blood and meet the following criteria:
Prior diagnosis of COVID-19, documented by a laboratory test

Present negative results for COVID-19, either from nasal swabs or a molecular (RNA or nucleic acid) diagnostic blood test

Symptom-free for 14 day prior to donation

If female, either no history of pregnancy or negative for HLA (tissue typing) antibodies
"We're proud to partner with donors like Senator Rosino to provide a cutting-edge treatment to power possible recoveries for other patients," said John Armitage, MD, president and CEO of Oklahoma Blood Institute. "Generosity is a strength we can lean on to fight this virus, and we appreciate our state leaders giving such visible support for this effort.
Donors are encouraged to sign up for Oklahoma's registry at my.bio-linked.org.  Bio-Linked allows users to submit confidential health and social information via a secure site and to list themselves as potential volunteers for medical research.  Once qualified, plasma will be drawn, with each donor providing up to three therapeutic plasma doses.  People can also call the OBI at 877-340-8777.
For more information, contact Sen. Paul Rosino at 405-521-5618 or email Paul.Rosino@oksenate.gov.