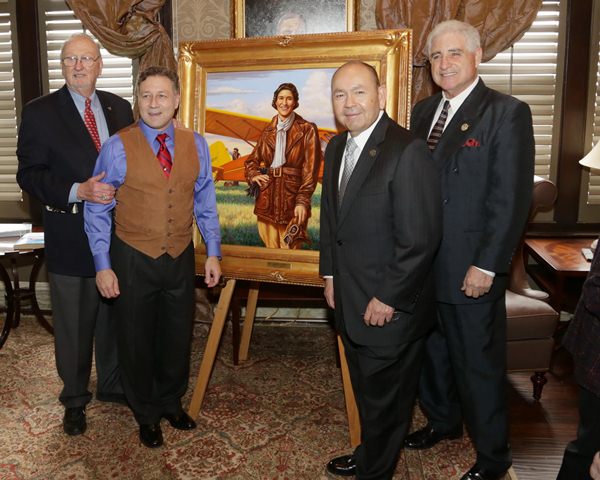 Former Sen. and Preservation Fund President Charles Ford poses with artist Christopher Nick and portrait sponsors Chickasaw Nation Governor Bill Anoatubby and State Rep. Ray McCarter.
A portrait of the late Pearl Carter Scott, one of the country's youngest pilots and a former Chickasaw legislator, will now grace the walls of the Oklahoma State Capitol following the unveiling ceremony Wednesday in the House of Representatives. The portrait, painted by Oklahoma artist Christopher Nick, was a gift of the Chickasaw Nation, Governor Bill Anoatubby and Rep. Ray McCarter, Ed.D.

Eula Pearl Carter Scott was born in December 1915 in Marlow, Oklahoma, to George and Lucy Scott, who was an original enrollee of the Chickasaw Nation. After learning to drive at the age of 12, she soared to new heights and learned to fly at the age of 13 under legendary aviator Wiley Post. She became the youngest pilot in the U.S. with her first solo flight on September 12, 1929 and later became a stunt pilot.

In 1972, after starting a family, Scott became one of the Chickasaw Nation's first community health representatives after studying at the Desert Willow Indian Training Center in Tucson, Arizona. In 1983, she was elected to the Chickasaw legislature, where she served three terms and helped oversee tremendous growth in tribal operations and services.

Scott was inducted into the Oklahoma Aviation and space Hall of Fame, the Chickasaw Nation Hall of Fame, the International Women's Air and Space Museum Hall of Fame, and is a charter member of the National Museum of the American Indian at the Smithsonian.

A complete file of her aviation experiences is in the 'History of Aviation Collection on Women" at Texas University in Dallas. She was listed in the 1978-79 edition of "Personalities of the South", the 1989-1990 edition of "Outstanding Women of America", and in the Chickasaw Historical Section of the Memphis Magazine. In 1990, she was Homecoming Queen and Guest of Honor for the 60th Anniversary of Wylie Post's trip around the world. She passed away in 2005.

The portrait of Pearl Carter Scott is the 147th work of art commissioned by the Oklahoma Senate Historical Preservation Fund founded by retired Senator Charles Ford of Tulsa. Since its creation, the nonprofit has raised over $2 million in private funds to commission various kinds of artwork including paintings and sculptures at no expense to taxpayers.

This and other art commissioned by the Oklahoma State Senate Historical Preservation Fund, Inc. can be found on the Internet at: http://www.oksenate.gov/senate_artwork/artwork_index_full.aspx.
About the Sponsors:
Governor Anoatubby began working for the Chickasaw Nation in 1975 as its health services director. A year later, he was asked to direct its finance department and then in October 1978, he was promoted to the position of special assistant to the governor and controller. In 1979, he was elected as the tribe's first Lt. Governor and was then elected Governor in 1987. In his first term, he established goals of economic development and self-sufficiency for the Chickasaw Nation and its people. Today, the tribe is well on the way to achieving its goals.

Rep. McCarter, Ed.D, is a native Oklahoman who served in the U.S. Air Force during Vietnam before beginning a 30-year career as a teacher, coach, referee and school superintendent serving schools in Okarche, Mustang, Central, Marlow and Waurika. He served as a representative in House District 51 from 1996-2008 where he served as an Assistant Majority Floor Leader. He currently serves on the advisory board of the Chisholm Trail Arts Council and has served on committees within the Chickasaw Nation.
About the artist:
Christopher Nick was born and raised in rural Oklahoma and received his formal art training at the Atelier LeSueuer in Minneapolis, Minnesota. He has worked for national publishing houses and advertising campaigns with McDonald's and Dr. Pepper. His images have been published on book covers, children's books, figurines, textiles, puzzles, ceramics, calendars, greeting cards and magazines.
Contact info
Sandra Shelton: (405) 521-5563