The Oklahoma State School Boards Association (OSSBA) recognized Sen. Dewayne Pemberton for his dedication to Oklahoma schools this session by naming him Legislator of the Year. The Muskogee legislator was presented with the award at the annual OSSBA/CCOSA Conference last Friday at the Cox Convention Center in Oklahoma City.
"It's a tremendous honor to be recognized by my peers and fellow education advocates," said Pemberton. "We have all dedicated our lives to improving our local schools, helping our teachers and school staff while making classrooms good environments for learning and growing. Our work is far from done, though, and I will continue to fight for public education."
Pemberton serves as Chairman of the Senate Appropriations Subcommittee on Education and also as a member of the Senate Education Committee. He dedicated 36 years of his life to public education in the state as a teacher, coach, athletic director and principal.
During the 2018 legislative session he co-authored legislation to gradually restore class-size limits, modernize alternative education funding and improve accountability and transparency of charter schools. He was responsible for presenting all education appropriations bills both in committee and to the full Senate.
Award recipients are chosen by the OSSBA Board of Directors, which is comprised of 32 school board members from around the state, choose a senator and representative each year for their work to pass and support legislation supporting public education. The conference is attended by approximately 2,000 Oklahoma school board members and administrators.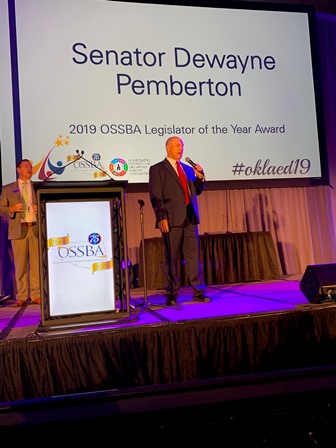 Contact info
Sen. Dewayne Pemberton: 405-521-5533