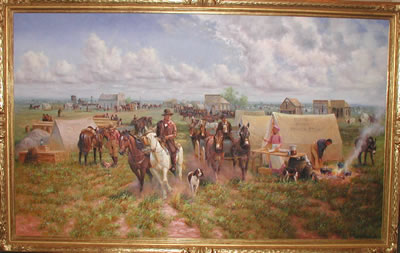 Oklahoma City -April 29, 1889 Seven Days After the Land Run of 1889
Senator Charles Ford announced the dedication of another original painting commissioned by the Oklahoma State Senate Historical Preservation Fund Inc. The painting, entitled Oklahoma City - April 29, 1889 Seven Days After The Land Run of 1889, by internationally known western artist Wayne Cooper of Depew, Oklahoma was unveiled during a ceremony in the House Senate Chamber this afternoon.
The Oklahoma land run is a unique part of American History, and literally over-night gave birth to what is now our states Capitol city, explained Senator Ford. Before the land run, Oklahoma Station, as it was then called, consisted of a home for the railroad agent and four other small buildings. Within twelve hours after the start of the land run, more than 12,000 people had arrived to stake their claim. As historian Roy D. Stewarts book title says, Oklahoma City was literally born grown.
The painting is a gift of former House Minority Leader and Attorney General G.T. Blankenship and family. Born in Oklahoma City in 1928, He attended the University of Oklahoma earning a B.A. and L.L.B. degrees. He served as Staff Judge Advocate in the United Air Force, founded Nichols Hills Bank and Trust Co. and currently serves on the Boards of the University of Oklahoma Regents, Oklahoma United Methodist Foundation, Oklahoma Heritage Foundation and Oklahoma Eye Foundation. He was inducted in the Oklahoma Hall of Fame in 2001. G.T. and Libby Blankenships family includes three children and seven grandchildren.
The painting will be permanently displayed in the lobby of the House of Representatives.
Contact info
Senate Communications Division - (405) 521-5605