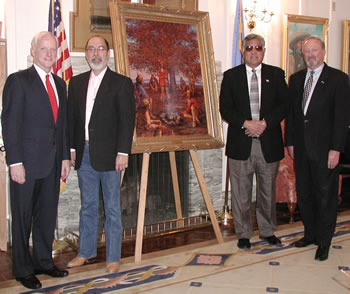 Gov. Frank Keating, Artist Mike Larsen, Creek Nation Chief Perry Beaver and Sen. Charles Ford with the painting of the Creek Council Oak Tree
Senator Charles Ford announced the dedication of another original painting commissioned by the Oklahoma State Senate Historical Preservation Fund Inc. The painting of the Creek Council Oak Tree by internationally known artist Mike Larsen was unveiled during a ceremony in the State Senate Chamber this afternoon.
"The Creek Council Oak Tree is a very important symbol to the Lochapoka clan of the Creek Indians. Forced on their own "Trail of Tears," in 1834, 161 of the original group of 630 died while traveling from Alabama to what is now Oklahoma. At the end of their journey, the leaders of the group gathered beneath a large oak tree, which they used to define the southeastern corner where they would build their new home. The Lochapoka called their new home Tulsey after the Creek word Tullahassee, meaning "Old Town."
The original Creek Council Oak Tree still stands, between seventeenth and Eighteenth Streets and Cheyenne and Denver Avenues in Tulsa, Oklahoma.
"This is a wonderful addition to the original artwork on permanent display at the State Capitol. It is a significant part of our state's history, and I'm very pleased that Governor Frank Keating was responsible for this gift," said Senator Ford.
Governor Frank Keating, who represented the Tulsa area in both the State House and the Senate in the 1970's said he was honored to add to the collection of original paintings at the Capitol.
"In many ways, I think the Creek Council Oak Tree is a metaphor for the birth and growth of Oklahoma. The Lochapoka clan who gathered there had overcome tremendous adversity and loss; they honored and remembered their past at that site with ashes from their last fires in Alabama. And at the site of that oak tree they built a new future for themselves and their children. I'm very pleased to honor those early Oklahomans and preserve this historic event with such a beautiful painting," said Governor Keating.
Contact info
Senate Communications Division - (405) 521-5605