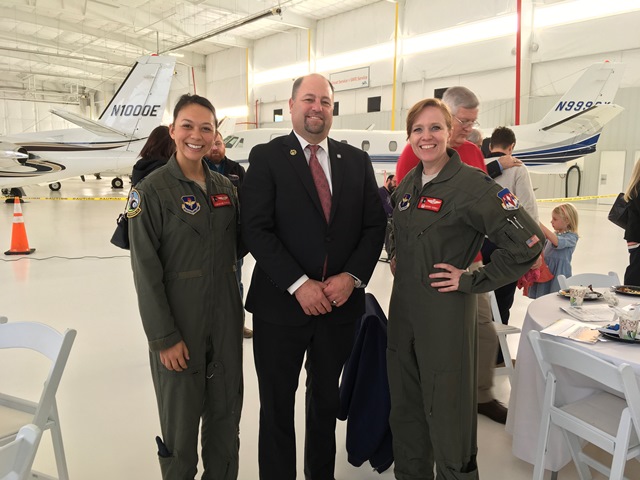 Sen. Paul Scott joined many other Oklahomans on December 9th to celebrate the first annual Oklahoma Women in Aviation and Aerospace Day at the Atlantic Aviation Hangar at Wiley Post Airport. Pictured L-R: Captain Christine Durham, Sen. Scott and Lieutena
Oklahoma became the first state in the nation to recognize Women in Aviation and Aerospace Day when legislation was approved this spring. Sen. Paul Scott was the author of Senate Bill 230 creating the day to commemorate one of the state's most popular industries.

"Oklahoma has a long, colorful history in aviation and women have played a major role in shaping that history," said Scott, R-Duncan. "Women's role in aviation needs to be celebrated and our young women today need to be introduced to this exciting industry and career opportunity."

The bill declares December 9 of each year as Oklahoma Women in Aviation and Aerospace Day to commemorate their achievements, past and present, in the industry. It will provide an opportunity for communities to host events highlighting local airports, women's contributions to the industry and to educate the public, especially young women, about advances in aerospace exploration.

The date was picked in honor of famous Oklahoma female aviator Eula "Pearl" Carter Scott's birthday. Pearl was born in 1915 in Marlow and became the youngest pilot in the U.S. with her first sole flight on September 12, 1929 at the age of 14. She learned to fly from Wiley Post and later became a stunt pilot. Scott was a member of the Chickasaw Tribe and was elected to the Chickasaw legislature in 1983 where she served three terms.

Oklahoma boasts several famous female aviators including Shannon Lucid, Jerrie Cobb, Bessie Coleman and others.
Shannon grew up in Bethany and graduated from the University of Oklahoma with a Bachelor's in chemistry as well as a Master's and Ph.D in biochemistry. She was selected for the NASA Astronaut Corps in 1978. Of the six women in the first class of female astronauts, Shannon was the only one who was a mother at the time of being selected. At one time, she held the record for the longest duration stay in space by an American, as well as by a woman. Shannon has flown in space five times including a prolonged mission aboard the Mir space station in 1996. She is the only American woman to serve aboard Mir.

Geraldyn "Jerri" Cobb was born in Norman in 1931. At 19, she was teaching men to fly and by 21, she was delivering military fighters and four-engine bombers to foreign Air Forces worldwide. She was the first woman to fly in the Paris Air Show, the world's largest air exposition. Jerrie was named Pilot of the Year and received the Amelia Earhart Gold Medal of Achievement. Life Magazine named her one of the nine women of the "100 most important young people in the United States. By age 29, she held three world aviation records: the 1959 world record for nonstop long-distance flight, the 1959 world light-plane speed record, and a 1960 world altitude record for lightweight aircraft of 37,010 ft. She was part of the "Mercury 13," a group of women selected to undergo physiological screening tests at the same time as the original Mercury Seven astronauts, as part of a private, non-NASA program. She was unable to rally support in Congress for adding women to the astronaut program based solely on their gender.

Bessie Coleman, born in 1892, was the first woman of African-American descent as well as of Native American descent, to hold a pilot license. She attended the Oklahoma Colored Agricultural and Normal University (now known as Langston University) before going to France to attend flight-school and get her pilot's license. "Queen Bess" returned to the U.S. where she was a media sensation flying in stunt shows around the country. Before she passed away, she dreamed of opening a school for young black aviators.

"I enjoyed celebrating the first commemorate day earlier this month, and I hope to see more communities celebrating this important day in the future," said Scott.

Contact info
Sen. Scott: (405) 521-5522