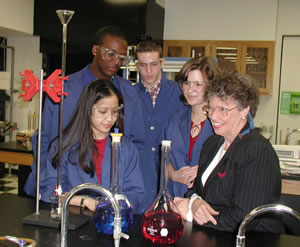 Senator Penny Williams visits with OSSM students.
OKLAHOMA CITY -Long-time education champion Senator Penny Williams is being honored with a lecture series bearing her name.
"The Senator Penny Williams Distinguished Lecture Series" has been established and endowed by friends of Senator Williams. This series will bring internationally known lecturers to the Oklahoma School of Science and Mathematics (OSSM) to interact with its students, faculty and supporters.
Federal Judge Robert Henry, who is also a former Oklahoma Attorney General and legislator, was among those involved in creating the lecture series.
"Penny's commitment to excellence caused her to introduce the bill creating OSSM. Thus, I can't think of anything more fitting to honor her than a lecture series dedicated to continuing and further advancing educational excellence. And, I can't think of a better inaugural lecturer than Dr. Baruch Blumberg. His discovery of the "Australia antigen" led first to a test that allowed us to protect our blood supply by identifying those blood donors who were carrying Hepatitis B, and subsequently, to a vaccine for that virus that has saved millions of lives. His continued work with NASA in the emerging field of astrobiology shows that his vision has not dimmed. He epitomizes scientific excellence and will be an inspiration to our bright young students at OSSM," said Henry.
While still in the House of Representatives, Penny Williams was the principal author of the initial legislation in 1983 that began the creation of the Oklahoma School of Science and Mathematics. OSSM was modeled after a similar school in North Carolina. The residential two-year school is home to some of Oklahoma's brightest high school students, giving them an opportunity to study with a faculty with advanced degrees and impressive research credentials.
However Senator Williams has been a leader for all aspects of education in Oklahoma, helping secure passage of the landmark education funding and reform measure, House Bill 1017 in 1990, and ten years later with House Bill 1759.
Now Chair of the Senate Education Committee, Senator Williams earlier passed legislation to establish public upper-division and graduate level higher education in Tulsa, which up until that point had been the largest city in the United States without a publicly supported four- year college.
"I am deeply honored that so many great people have come together to create this lecture series. The School of Science and Mathematics gives Oklahoma an opportunity to help some of our brightest young people fulfill their intellectual and academic potential in a way that was never before possible. Getting to meet and learn from such great minds as Dr. Blumberg will further enhance what is already an amazing educational experience for these students," said Senator Williams.
Baruch S. Blumberg, M.D., Ph.D. has conducted research in numerous areas, including epidemiology, virology, genetics, and anthropology. Dr. Blumberg was awarded the Nobel Prize in 1976 for his work with infectious diseases and specifically for the discovery of the Hepatitis B virus. In 1993 he and Dr. Irving Millman were elected to the National Inventors Hall of Fame for their invention of the Hepatitis B vaccine, and the diagnostic test for the disease. Dr. Blumberg is a Distinguished Scientist at the prestigious Fox Chase Cancer Center in Philadelphia and University Professor of Medicine and Anthropology at the University of Pennsylvania. He also currently serves as Director of the NASA Astrobiology Institute at Ames Research Center, Moffett Field, California. He also currently teaches in the Human Biology program at Stanford University.
Dr. Blumberg will address the students at the Oklahoma School of Science and Mathematics at 4:00 p.m., Thursday, April 19th.
Contact info
Senate Communications Division - (405) 521-5605