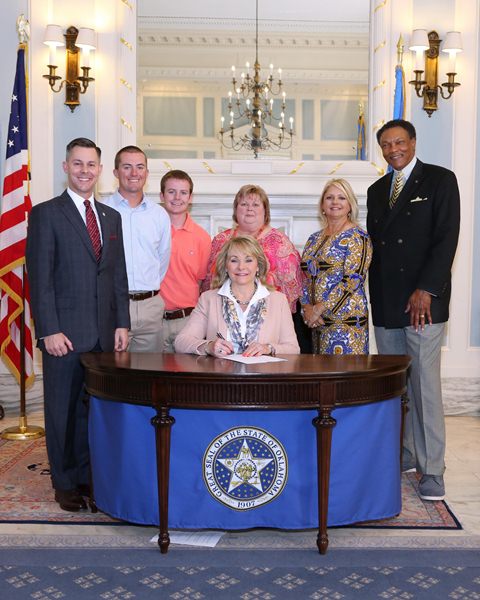 Gov. Mary Fallin held a ceremonial signing of SB 137 recently and was joined by the bill's author, Sen. Corey Brooks (R-Washington), as well as Dillon, Dustin and Dana Stanley, Melanie Wilkins and Kermit R. McMurry, Ph.D. Vice Chancellor- Student Servi
More Oklahoma students will be able to qualify for the Oklahoma Higher Learning Access Program (OHLAP) and attend college thanks to a new law that went into effect July 1. Sen. Corey Brooks was the principal author of Senate Bill 137, which allows the State Regents for Higher Education to review cases where a family's income includes nontaxable military benefits or federal Social Security payments due to the death or disability of one or both parents.

"This program was created to ensure that all Oklahoma students who are serious about pursuing higher education get that opportunity if they meet certain financial and academic requirements. Unfortunately, we discovered last year that some students have been unfairly denied access to the program because of their families' military or Social Security benefits stemming from the death or disability of one or both of their parents," said Brooks, R-Washington.

The issue in the income evaluation system was brought to light by Duncan residents, Dennis and Dana Stanley, whose oldest son, Dillon, was denied access to the program in 2011 because of his father's social security disability payments. Dennis was diagnosed with a brain tumor in 2005 that left him unable to care for himself. Due to various treatments for the brain tumor (including surgeries, radiation and chemotherapy), he is in a nursing home and requires round-the-clock care. His social security disability payments put the family over the program's $50,000 annual family income eligibility level when their oldest son applied for the OHLAP scholarship.

Their family is relieved that the bill was signed into law and said their youngest son, Dustin, who will graduate from high school in 2018, will be applying for the scholarship this fall.

"We are extremely excited that Senate Bill 137 was approved and signed into law this year. We're very thankful for Senator Brook's dedication and hard work in addressing this oversight, and for Governor Fallin signing the bill," said Dana. "This will help our family tremendously, and I know that there are many other families that will benefit from this as well. It is an incredible gift and we are beyond grateful."

Prior to passage of SB 137, in order to qualify for OHLAP, a student's family income, both taxable and nontaxable, could not exceed $50,000 per year. Brooks' bill allows the Oklahoma State Regents for Higher Education to review cases involving special financial situations such as nontaxable military and Social Security payments. If the family's income is found to be less than $50,000 excluding those benefits, the student will be eligible for the OHLAP program.

"I'm so grateful to the Stanley family for making me aware of this unfortunate oversight in the scholarship program. Unfortunately, their oldest wasn't able to qualify and has had to go well above and beyond the effort common to the vast majority of students in order to pay for his college education but because of his parents' determination, his brother can apply for the scholarship," said Brooks. "I'm pleased that the legislature took swift action in passing this legislation, and grateful for Governor Fallin's support as well, so that we could fulfill the state's promise to help more Oklahoma students get their education and pursue their dreams."

According to the State Regents, there are currently more than 18,000 Oklahoma students receiving the OHLAP scholarship.
Contact info
Sen. Brooks: 405-521-5522