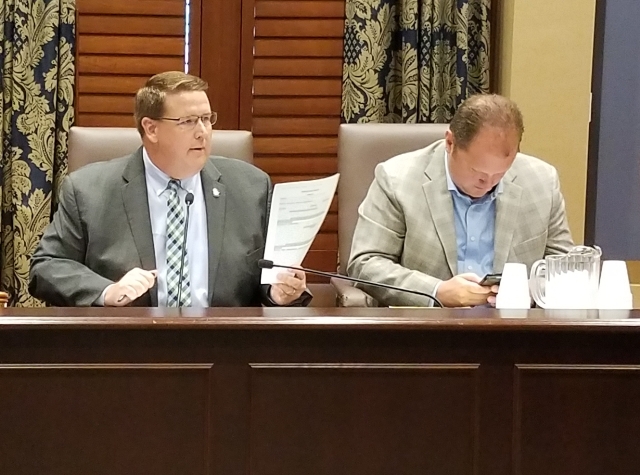 Co-Chairs of the Medical Marijuana Working group Sen. Greg McCortney and Rep. Jon Echols.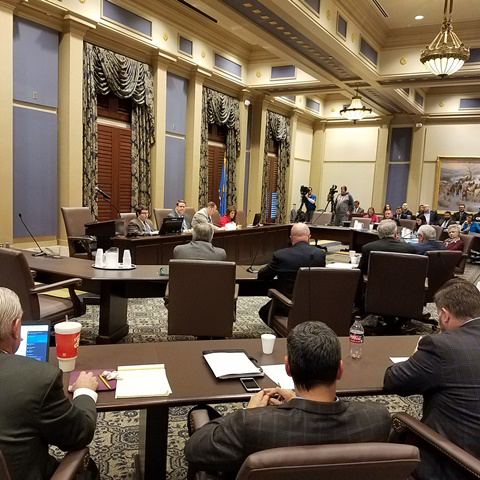 Legislative members discuss priorities for medical marijuana testing Wednesday at the Capitol.

The bipartisan, Oklahoma Senate and Oklahoma House working group on medical marijuana implementation on Wednesday unanimously approved priorities for medical marijuana testing in a bipartisan vote in a move that will help ensure Oklahomans have access to safe and effective medicine, the group's co-chair said.

Senator Greg McCortney praised the hard work of the committee members, appointed in July by Senate Pro Tem-designate Greg Treat and House Speaker Charles McCall, and said the priorities were the first in a series of steps to fully implement a medical marijuana system according to the will of voters who approved State Question 788.

"From Day One, our objective has been to collect information and seek input from stakeholders from all across the industry so that the state can develop and implement a safe and effective medical marijuana industry," said McCortney, R-Ada. "Testing has been a high priority and the recommendations the working group made today, will help ensure that Oklahomans have access to safe medicine. This is the first of many steps the state must take to fully implement a successful, effective and safe medical marijuana industry in accordance with the will of voters. Work will continue as we sort through a variety of issues like banking and taxation, employment law, and licensing issues. This has been a bipartisan effort on behalf of the Senate and the House. I appreciate the hard work of my co-chair and all the members of the committee."

The working group approved by a 8-0 vote a set of testing priorities (click here to view the Twelfth Medial Marijuana Working Group meeting agenda and additional documents). The recommendations will be sent to the Oklahoma State Department of Health for consideration by the Board of Health, which may issue rules based on the working group's recommendations.

Pro Tem-designate Treat commended McCortney for undertaking a complicated issue.

"Oklahoma is trying to do in a matter of weeks and months what most states have done over the course of several years. This group was sent on a fact-finding mission to collect information that would help lawmakers and policy makers succeed in setting up a medical marijuana system as the voters intended. Senator McCortney has done a terrific job in leading this group and helping them to achieve their mission. I appreciate him and the other senators serving on the committee for their hard work and dedication," Treat said.
Contact info
Sen. McCortney: (405) 521-5541