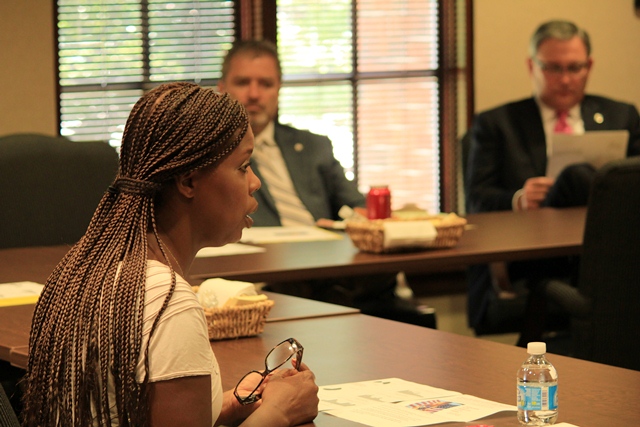 Social policy consultant Star Parker speaks on welfare reform alongside Sen. Rob Standridge (R-Norman) and Rep. Tom Newell (R-Seminole) at a recent OCPA forum.
Three state legislators are working with a conservative think tank to ensure that welfare is used as the temporary safety net that it was designed to be rather than a long term crutch. Last week, Sen. Rob Standridge worked with the Oklahoma Council of Public Affairs (OCPA) in hosting a forum on welfare reform in Oklahoma along with Rep. Jason Nelson and Rep. Tom Newell. The featured speaker was conservative political activist Star Parker who discussed her visionary ideas on empowering those trapped in the welfare system.

Parker is the founder and president of the Center for Urban Renewal and Education (CURE) in Washington, D.C., which works to create a national dialogue on issues of race and poverty. Parker opposes many welfare programs believing that instead of teaching people how to take care of themselves, they create a system of government reliance and helplessness. Parker had seven years of first-hand experience in the grip of welfare dependency. Now, as a social policy consultant, she works with policy makers on how to transition America's poor from government dependency.

"I am extremely encouraged and excited that, amidst all of the political noise in the nation today, Senator Standridge is focused and deliberate about helping those most vulnerable. I look forward to working closely with him and his office to help those struggling to prosper and live in peace in this great nation of ours. Under Senator Standridge's leadership, Oklahoma could be a model to help save the country."

As Vice Chairman of the Senate Health and Human Services Committee, Standridge has been a strong advocate of welfare reform authoring numerous measures to address Oklahomans' growing reliance on government assistance.

"I enjoyed hearing Star Parker's ideas for how to help strengthen individuals and families and get them off of welfare. When it was created welfare was intended to only be temporary assistance for the disabled and elderly and it has become a crutch for all ages and that has to stop," said Standridge, R- Norman. "Part of being fiscally responsible is ensuring that all citizens have the education and skills needed to be contributing members of our society. The strength of our economy depends on this. I'm looking forward to continuing our efforts to reform Oklahoma's welfare system and putting some of Star's ideas to work in legislation for the upcoming session."

The Senate Health and Human Services Committee will be conducting an interim study this fall on Oklahoma's welfare-to-work programs and the long term impacts of House Bill 2388, which allows DHS to deny Temporary Assistance for Needy Families (TANF) benefits to applicants found using controlled substances.

Nelson, who is the House Deputy Majority Floor Leader, serves as a member of both the House Appropriations and Budget Committee and Conference Committee on Health and Human Services.

"Star Parker's story is inspiring and her call to action compelling. Her call to provide our most vulnerable citizens with equal opportunities in education and to partner with families who want to work their way up the economic ladder resonated with me," said Nelson, R-Oklahoma City. "I look forward to continuing to work with my colleagues to expand these important opportunities. I'm grateful that Star is willing to invest her time and energy in Oklahoma and look forward to working with her."

Newell serves as the Chair of the Conference Committee on Health and Human Services as well as the Appropriations and Budget Committee on Health and Human Services.

"A system once thought to help people when they're in temporary need has become a big-government bureaucracy that has entrapped entire families for several generations now," said Newell, R-Seminole. "Once well-meaning, America's welfare system only serves to trap people and remove any motivation to get off the system and find gainful employment. It's a cycle that must be broken somehow, and I believe Star Parker's ideas on how to accomplish that could revolutionize the system. Also, it could provide true light for people who don't want the government to take care of them, but want to be self-sufficient. It was an honor to discuss with Star what can be done to ensure the welfare system goes back to being a temporary safety net and not a catch-all way of life."

The legislators will be working together to introduce strong welfare reform measures in the 2015 legislative session. The bill request deadline will be in early December.
Contact info
Sen. Standridge: (405) 521-5535