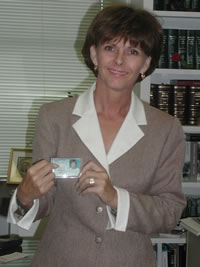 Sen. Carol Martin, R-Comanche, is the author of a new law aimed at preventing identity theft. After July 1, newly issued or renewed drivers' licenses will no longer use a person's social security number, but will use a separate identification number ins
OKLAHOMA CITY - Oklahomans will soon be using an identification number other than their social security number for their driver's license. That's after the Governor signed legislation aimed at reducing fraudulent use of social security numbers. Senator Carol Martin became concerned after increased reports of identify theft began surfacing both in her district and around the state.
Senator Martin, R-Comanche, amended House Bill No. 1308 in conference to include gradual elimination of use of an applicant's social security number on his or her driver's license. Anyone getting their driver's license for the first time or having their license renewed will be required to use a number other than their Social Security number.
"I think it's a problem a lot of Oklahomans may not know about, especially in rural areas. A lot of people have stock trailers and other equipment and use their driver's license number on them for official identification. Unfortunately, that's also their Social Security number, and we've had criminals use those numbers to obtain credit cards and other documents. It causes huge problems for a person who has had their Social Security number used by someone else," explained Senator Martin.
The new law goes into effect on July 1st of this year. "It is my understanding that within three years, we'll probably have gotten most of the driver's licenses in the state changed over. In the meantime, I would highly recommend going ahead and changing your driver's license number and any other identification such as numbers on stock trailers or printed checks to make sure you aren't using your social security number. It may seem inconvenient now, but it isn't nearly as bad as having your identify stolen and having your credit ruined as a result of someone using your social security number," said Senator Martin.
Contact info
Senate Communications Division - (405) 521-5605